Potawatomi Bingo Casino to Announce 2013 Miracle on Canal Street Fund-Raising Total Dec. 13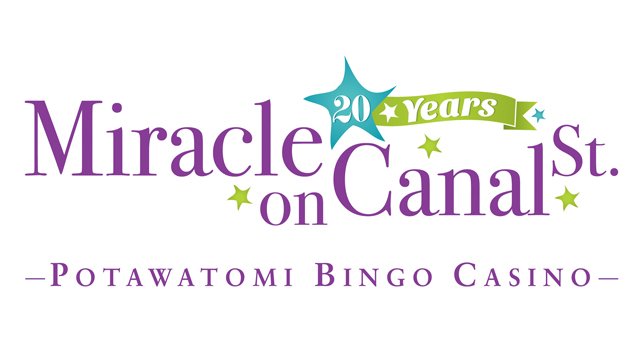 MILWAUKEE – At least 20 children's charities in southeastern Wisconsin will receive a big holiday gift Friday, December 13, when Potawatomi Bingo Casino announces the fund-raising total for the 2013 Miracle on Canal Street program. And since this year marks the program's 20th anniversary, you can bet there will be additional excitement and surprises in store during the grand finale held in the Casino's Nest of Life Bingo Hall.
---
On December 13, 10 additional charities will be randomly selected after the 2013 fund-raising total is revealed during a short program scheduled to take place at 6 p.m. in the Bingo Hall. Those charities will join the 10 signature Miracle on Canal Street charities already selected to participate in the 2013 program by the Casino's media partners. This year's signature charities include:
"The day we reveal the amount our guests have contributed to Miracle on Canal Street is always filled with anticipation and excitement," said Melanie Martin, Potawatomi Bingo Casino bingo director. "I'm looking forward to revealing this year's grand total and celebrating our 20th year of contributing funds to worthy children's charities throughout our community."
Miracle on Canal Street is the Casino's signature charitable program. Its mission is to improve the quality of life for children in southeastern Wisconsin. Through funds raised primarily through special bingo games and the generosity of Potawatomi Bingo Casino guests, the program has contributed more than $12.5 million to non-profit organizations since its inception in 1994.  
Potawatomi Bingo Casino is one of two casinos owned and operated by the Forest County Potawatomi Community. It is located at 1721 W. Canal Street, Milwaukee, Wis. The casino is a showcase for high stakes bingo, offering some of the nation's highest daily payouts.  A popular attraction for local guests, tourists and tour groups, the casino features blackjack, craps, poker, and roulette table games, video and reel slot machines, off-track betting, and a variety of live entertainment. Potawatomi Bingo Casino is committed to raising awareness of the risks of problem gambling, maintaining a level of first-class customer service, while investing in its most valuable asset – its 2,600 multicultural employees. Through the Forest County Potawatomi Community Foundation and Miracle on Canal Street, the casino supports numerous local charities and community organizations. Driving directions and more information about Potawatomi Bingo Casino can be obtained by calling toll-free, 1-800-PAYS-BIG or by visiting the website at paysbig.com.