Building Milwaukee's Future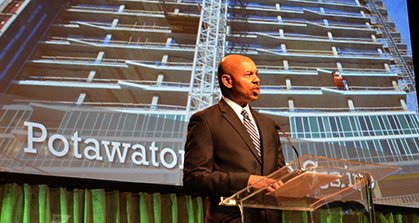 Potawatomi Bingo Casino served as a presenting sponsor of the Metropolitan Milwaukee Association of Commerce's All Member Meeting. The MMAC shared insights into the area's key issues including workforce development, building a thriving economy and leveraging distinctive assets.
Chief Financial Officer Rodney Ferguson spoke about the Casino's bright future with the opening of its 381-room hotel in 2014, which will add jobs and contribute to the tax base. Also a key player in the area's tourism market, the Casino serves as a large Milwaukee-area employer with 2,600 current team members.
Through its Miracle on Canal Street program, more than $12.5 million has been contributed to area children's charities to date.