Casino Celebrates Martin Luther King Day with Community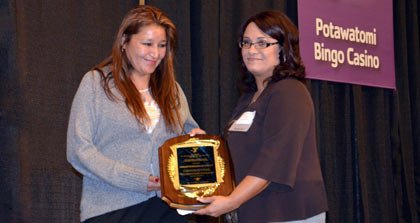 Potawatomi Bingo Casino joined hundreds of people at the annual Dr. Martin Luther King Breakfast, presented by the YMCA, to honor Dr. King's legacy.  The Casino sponsors the Diversity and Inclusion Award which was presented by Assistant General Manager Laurette Pettibone to award winner Independence First.
The Potawatomi Bingo Casino Diversity and Inclusion Award is given, in part, in recognition of the Casino's commitment to diversity. Over fifty-percent of casino staff are people of color including African-American, Hispanic, Asian and Native American.
---
During her presentation of the award Pettibone said "our diverse team members bring many cultures, ideas and experiences together that have helped our business succeed and grow".
The award also connected to the theme for the breakfast was a quote from Dr. King: "What affects one directly, affects all indirectly. I can never be what I ought to be until you are what you ought to be."