Casino Delivers Miracle Checks to Local Charities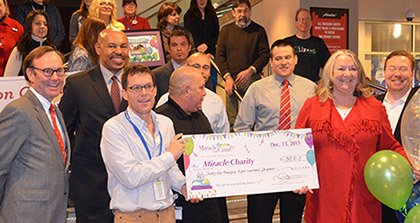 The 20th anniversary of Potawatomi Bingo Casino's Miracle on Canal Street program was a huge success and $1,074,391 was raised to help 152 children's charities throughout southeastern Wisconsin.
Twenty local charities received a visit from the "Miracle Prize Patrol," a group of Casino staff members who made the rounds to each organization to personally deliver their checks along with a custom-made plaque and balloons. These charities each received a check for $35,813 that will be used to improve their programs and help provide much-needed services to children in our community. 
"We consider these organizations part of our Miracle family, so we created an opportunity to visit their facilities to see some of their programs first-hand and meet their staff," said Renee Kirnberger, Potawatomi Bingo Casino public affairs manager.
"We were delighted they took the time to come to the museum and to give us an opportunity to thank them for their support and show off our exhibits," said Mary Bridges, senior VP of marketing, Milwaukee Public Museum. "It's a great partnership and the funds will make a huge impact." 
Miracle on Canal Street is the Casino's signature charity program and has made 552 donations totaling more than $13.6 million since its inception in 1994.
---