Casino Helps Generate Awareness of Problem Gambling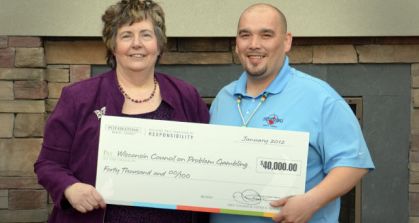 Potawatomi Bingo Casino is the largest private contributor to the Wisconsin Council on Problem Gambling. Rose Gruber, Executive Director of WCPG (pictured left) accepted the check from Winslow Mexico, Assistant General Manager of Gaming Operations. Casino funds help sponsor the 24-hour helpline, mental health counselor trainings and educational outreach throughout the state.
Most people can play the lottery, host a card game in their basement or visit a casino just for fun and entertainment. But for a small percentage of people their gambling can escalate into an uncontrollable problem. That is why Potawatomi Bingo Casino is joining with others around the country to participate in National Problem Gambling Awareness Week (NPGAW) March 4 – 10. NPGAW helps draw attention to the warning signs and resources to help.
One of the objectives in participating in NPGAW is to help people identify the issue. Friends, family and co-workers can be the first line of defense in identifying a problem gambler before they become desperate or compulsive. Some of the warning signs to look for include:
Frequently talking about gambling;

Showing an eagerness to participate in gambling opportunities;

Frequently borrowing money;

Complaints of mounting debt;

Deterioration of work performance; and

Frequent unexplained absences.

If you or someone you exhibits any of these warning signs, help can be found through the Wisconsin Council on Problem Gambling at www.wi-problemgamblers.org  and the organization's helpline at (800) 426-2535.
Potawatomi Bingo Casino helps fund the helpline to make sure resources are available for anyone who needs them. Supporting the Council is part of the Casino's year-round efforts to address the issue of problem gambling.
The Casino's best advice is to gamble responsibly by: understanding the game you are playing and the odds of winning; setting a spending limit and stick to it, and gambling only for fun and entertainment. Potawatomi Bingo Casino believes that everybody wins when people gamble responsibly and "make a sure bet- know your limit".