Casino Joins in Celebration of Martin Luther King Day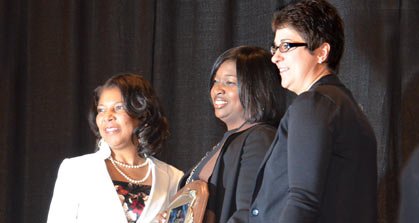 Human Resources Director, Nancy Dzurko, (on the right) presents
the Potawatomi Bingo Casino Diversity & Inclusion Award to the YWCA Southeast Wisconsin.
Potawatomi Bingo Casino was a lead sponsor of Milwaukee's annual Dr. Martin Luther King Jr. breakfast held on January 21. The event celebrates the life and legacy of Dr. King, and recognizes local community members and organizations who are dedicated to serving others. More than 600 people attended.
Several awards are presented at the event including youth poetry contest winners, a youth scholarship and two different awards to organizations.
The Casino sponsors the annual Potawatomi Bingo Casino Diversity & Inclusion Award which was given to the YWCA Southeast Wisconsin. The award honors an individual or group for their encouragement and commitment to supporting diversity and inclusion within our community. The YWCA's mission includes eliminating racism and they were recognized for the good work they do to bring people together and to help women advance.
The award was presented by Nancy Dzurko, Potawatomi's Human Resources Director, to the YWCA. Nancy spoke of how the Casino brings many cultures, ideas and experiences together which has helped the business succeed and created opportunities for inclusion.
The overall theme for the event focused on a quote from Dr. King "An individual has not started living until he can rise above the narrow confines of his individualistic concerns to the broader concerns of all humanity." Attendees were encouraged to honor Dr. King by volunteering in the community.
The event is organized and hosted by the YMCA of Metropolitan Milwaukee.