Casino Partners with Hispanic Professionals Association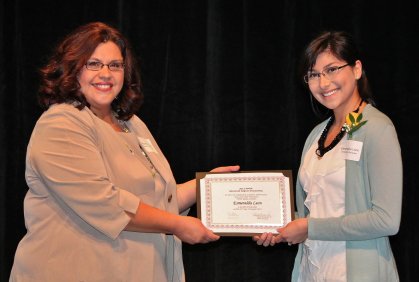 Potawatomi Bingo Casino was a proud sponsor of Hispanic Professionals of Greater Milwaukee's 2012 Annual Membership Meeting on August 23. More than 500 of Milwaukee's representatives from the business community celebrated the organization's mission to create a dynamic environment for Hispanic professionals to thrive by fostering leadership, mentoring, education, networking and new initiatives that support Hispanics.
In addition to the announcement of the 2012 HPGM Professional Awards, a highlight of the Annual Meeting is the presentation of scholarships to Hispanics earning post-graduate degrees. The Casino was honored to present one of the nine scholarships to Esmeralda León who is working on her Masters degree in Community Counseling at the University of Wisconsin-Milwaukee. An immigrant of Mexico, it is Esmeralda's dream to help the youth of her adopted country. As part of that dream, she was accepted out of hundreds nationwide to the prestigious Research for Undergraduates program. Congratulations, Esmeralda!