Casino Supports Junior Achievement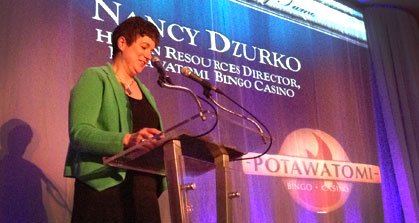 The Wisconsin Business Hall of Fame was created to recognize and honor the professional and civic accomplishments of business leaders in the state. Each year Junior Achievement hosts a dinner to salute the distinguished award winners.
Potawatomi Bingo Casino was the exclusive sponsor of the Peak Performer award presented at the event. Nancy Dzurko, Potawatomi Human Resource Director, spoke about the 2013 Peak Performer, Neil Willenson, and presented the award to him in front of a crowd of nearly 700 people.
Sponsoring the Wisconsin Business Hall of Fame induction ceremony is just one of the many ways the Casino supports the community.