Casino Supports Wisconsin Agriculture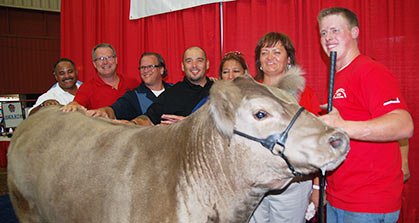 The Governor's Red, White and Blue Ribbon Livestock Auction was held at the Wisconsin State Fair on August 8, 2012 and Potawatomi Bingo Casino was a winning bidder.
For the sixth consecutive year, a Mineral Point youth has either sold the champion or the reserve champion steer at the Wisconsin State Fair's Annual Governor's Livestock Auction. Except this time, Brock May had the opportunity to do both.
May's 1,339 pounds Chianina steer sold for $27,500 to Kenosha Beef International and Birchwood Foods. His reserve champion crossbred then had a winning bid of $16,000 from Potawatomi Bingo Casino.
The Casino participated in the auction to give back to the community and support a vital part of Wisconsin's economy—agriculture.