Celebrating the Legacy of Dr. Martin Luther King, Jr.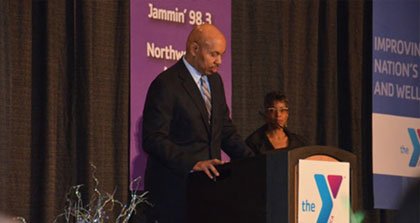 On Monday, January 20, the Casino served as an award sponsor at the 17th Annual Dr. Martin Luther King, Jr. breakfast. More than 700 people took part in the breakfast, which is the largest MLK Day celebration in the state of Wisconsin. Governor Scott Walker, Milwaukee Mayor Tom Barrett and Milwaukee County Executive Chris Abele all attended the event celebrating Dr. King's life and mission to forward civil rights through non-violence and service.
The Casino's Chief Financial Officer, Rodney Ferguson, addressed the audience and presented the annual "Potawatomi Bingo Casino Diversity & Inclusion Award" to this year's recipient, Children's Hospital of Wisconsin. This award honors an individual or group for their encouragement and commitment to supporting diversity and inclusion within our community.
"As a Native American-owned business, Potawatomi Bingo Casino believes in celebrating diversity and enjoys the rewards that inclusion brings to our organization," Ferguson said. "A diverse workforce helps bring together many cultures, ideas and experiences, all of which have helped our business grow and succeed."