Make Your Holidays Happy at Potawatomi Bingo Casino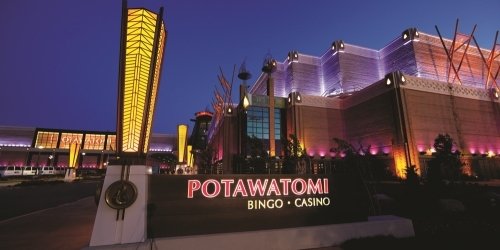 You've watched "It's A Wonderful Life" about a dozen times already this year. You're so full from all the desserts and cookies that sweets don't even taste good anymore. Or, for whatever reason, maybe you don't even celebrate the holidays. But hey, you've got the day off from work. You could sit home and get your bills done, but banks are also closed. You won't get that new magazine either because the post office is closed, too. In fact, your mail carrier may be roasting chestnuts on an open fire. Where can you turn on December 25? Potawatomi Bingo Casino has got you covered all day long!
---
11:00 a.m.—Hungry?
Sleep in. Once you're fully awake, hit the Casino for brunch. The Buffet is a perfect place to get your fix on all things tasty. Have lots of the same thing, or get adventurous on your meal. That's it, get a good base; you've got a long day of fun ahead of you!

1:00 p.m.—Try something new
Your hectic work schedule might have prevented you from stopping into the Casino in the last few months. That's okay, really; you're here now. While you're at it, why not check out the newest slot machines to the Casino? Try Lil' Red™, Forbidden Dragons™ or Bier Haus™!

2:30 p.m.—Get star struck
Throw on your sunglasses to play Elvis The King™ and when you win, say "thank you, thank you very much." Or try your luck on the Michael Jackson King of Pop™ slot machine. Winning would be a real thriller!

4:00 p.m.—Happy hour
Catch a Grey Goose® Vodka cocktail for happy hour.
6:00 p.m.—Dinner
Travel to the East with dinner at RuYi.
7:00 p.m.—B-I-N-G-O
Top your day off with the O' Christmas Tree Bingo Bash. Tired of winning yet? Didn't think so!
10:00 p.m.—It Was A Good Day
It's been a long day of winning. Stop by Trapper's Grille at the Menomonee Valley Food Court for a bite to eat before heading out.