Milwaukee's Newest Italian Restaurant—Wild Earth Cucina Italiana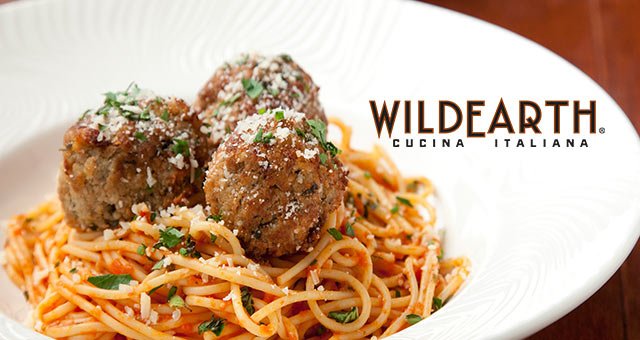 Settle in, relax and feel the warmth and comfort of being surrounded by friends and family, all while enjoying the familiar flavors of Italy, or try something a little different—maybe even slightly wild.
The Concept
Wild Earth Cucina Italiana is set to join the line-up of unique restaurants at Potawatomi Bingo Casino this month. The Grand Opening is scheduled for September 7. Located on the third floor right off of the skywalk entrance, this polished, yet casual restaurant will offer guests a menu of traditional Italian favorites, as well as re-invented classics with bold new flavors. "We want to give guests a menu that's familiar to them, full of comfort foods they know and love, while providing new dining experiences they won't soon forget," said Don Sally, Food & Beverage Director.
---
The Menu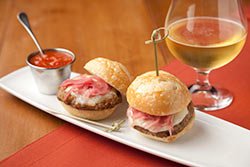 The approachable menu, created by Chef Audrey Vandenburgh and Sous Chef Maggie Haller, will offer a selection of dishes inspired by all regions in Italy and will highlight local and seasonal ingredients when possible. "It is a mix of contemporary and traditional interpretations with a focus on local, organic and sustainable foods," said Chef Vandenburgh.
Innovation and creativity can be seen in such dishes like the Laughing Bird® Flatbread, which includes Laughing Bird shrimp and pancetta baked atop house-made flatbread with pesto, fresh mozzarella and arugula, or the Italian Sausage Sliders with pickled red onion, mozzarella and marinara.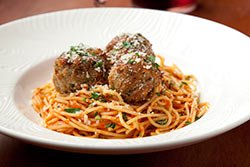 Italian restaurant would be complete without a few authentic and classic dishes—just like mom used to make. Order up a heaping helping of Wild Earth's Lasagna or Spaghetti and Meatballs, and you will be transported back to Sunday dinners gathered around the table filled with generations of family laughing and sharing stories. Complement the meal with a bottle of wine (30 different Italian varieties available) and you're bound to make new memories while reminiscing about the days gone by.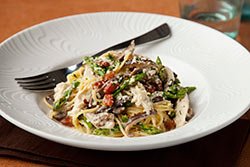 Other must-try dishes include the Chicken Carbonara—spaghetti sautéed with chicken, crispy pancetta, mushroom and asparagus sauce, and the Frutti de Mare with linguini, shrimp, scallops, calamari, clams and mussels. The restaurant's homemade rosemary focaccia or ciabatta loaf is the perfect vessel for sopping up the delicious remains of this flavorful seafood pasta.
Desserts
For an indulgent sweet treat, dig into a decadent dessert made from scratch by the casino's pastry department. Chocoholics will love the Chocolate Trio featuring an amaretto pate, gelato with hazelnut nougatine and espresso hot chocolate. The Torta de Pignoli is made with fresh rosemary, toasted pine nuts, a custard filling and vanilla mascarpone cream. The Zuppa-Misu is a take on a traditional tiramisu and includes a caramel sauce, vanilla pastry cream, sponge cake, lady fingers and coffee mousse.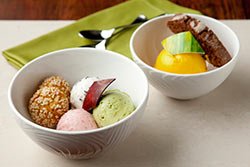 A few other treats worth sampling—all made in-house—include the gelato trio, limoncello, bellinis and Italian sodas in a variety of flavors.
Private Parties
If you're looking for a place to host a special family celebration, or even an intimate corporate event, the restaurant also has a private dining room that seats 12. It features a 55'' TV and has full A/V capabilities.
Potawatomi Bingo Casino is excited to offer another one-of-a-kind restaurant to satisfy the appetite of our guests. Make your reservations today to see what happens when classic Italian goes a little wild at Wild Earth Cucina Italiana.