Most Popular Gambling Movie in Every State
Whether you're an avid fan of the Ocean's series, or you're into dramas like Molly's Game and Uncut Gems, there's certainly no shortage of films about gambling to binge watch. But which ones are the most popular in every state?
We analyzed Google searches across the country to determine which gambling movies are at the top of the "must watch" list in all 50 states.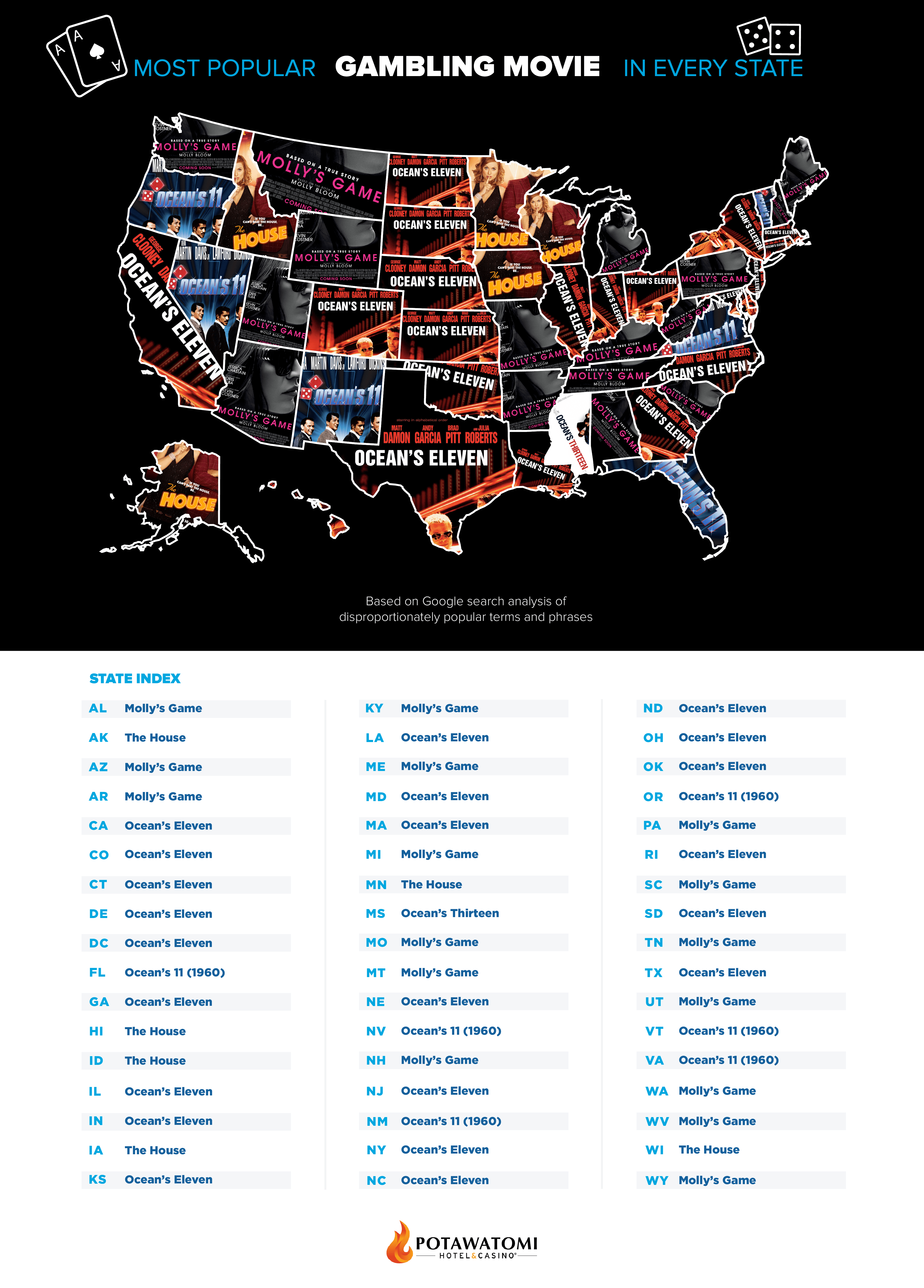 Before we break down state-by-state results, let's take a look at the most popular gambling movies nationwide. According to Google, Adam Sandler's acclaimed drama, Uncut Gems, ranks as the most-searched movie about gambling in the U.S. Coming in at No. 2 is Ocean's Eleven, which is celebrating its 20th anniversary this year. (Speaking of anniversaries, did we mention we're turning 30 this year?)
And the third most-searched movie about gambling is the twenty-first James Bond film, Casino Royale, starring Daniel Craig. The film features Bond in a high-stakes poker game, which takes place at the Casino Royale in Montenegro.
Lucky 21 for Ocean's Eleven
According to our analysis, Ocean's Eleven is the most-searched gambling movie in 21 states, which makes it the film with the most appearances on our list.
States that searched the most for Ocean's Eleven include California, Colorado, Connecticut, Delaware, Georgia, Illinois, Indiana, Kansas, Louisiana, Maryland, Massachusetts, Nebraska, New Jersey, New York, North Carolina, North Dakota, Ohio, Oklahoma, Rhode Island, South Dakota and Texas. The third film in the series, Ocean's Thirteen, was the most popular in Mississippi.
Considering 2021 marks the 20th anniversary of Ocean's Eleven, we also surveyed Americans to get their feedback on the film and series. According to respondents, Ocean's Eleven is the most popular in the series followed by Ocean's Thirteen, Ocean's 12 and Ocean's 8. Overall, 62% of respondents said a new Ocean's film should be made.
Coming in at No. 2 with the second most appearances is the 2017 film, Molly's Game, starring Jessica Chastain, Idris Elba and Kevin Costner. The film is based on the true story of an Olympic-class skier, Molly Bloom, who ran the world's most exclusive high-stakes poker game.
States that searched the most for Molly's Game include Alabama, Arkansas, Kentucky, Maine, Michigan, Missouri, Montana, New Hampshire, Pennsylvania, South Carolina, Tennessee, Utah, Washington, West Virginia and Wyoming.
Also making the list is The House, starring Will Ferrell and Amy Poehler. The House ranked No. 1 in Alaska, Idaho, Iowa, Minnesota and Wisconsin.
Do movies about gambling get you in the mood to play? Whether it's slots, video poker or electronic table games, check out all the options that Potawatomi Hotel & Casino has to offer here.
Methodology
Using the Google AdWords platform, we analyzed search volume trends for more than 400 terms related to gambling movies in each state and nationwide. The results represent the most disproportionately popular terms in every state. In July 2021, we also surveyed 1,016 Americans to ask them about their favorite gambling movies and feedback on the Ocean's series. Fifty-seven percent of respondents were male and 43% were female. The average age of respondents was 37 years old.
For media inquiries, contact media@digitalthirdcoast.net.