New Penny Slot Machine—Michael Jackson King of Pop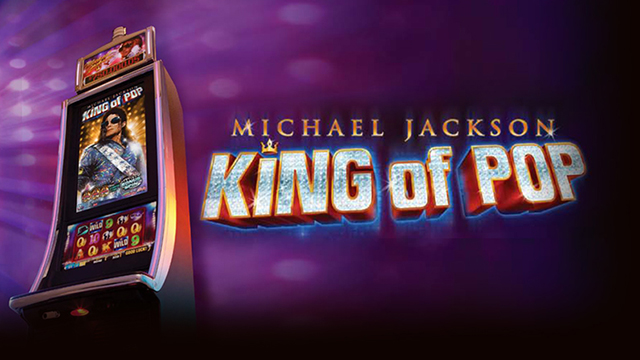 The red jacket. The white glove. The black shoes with white socks on tiptoe. The high-pitched notes. The jaw-dropping dance moves.
This could only describe one pop culture icon...or our newest 1¢ digital video slot machine!
---
Get drawn in to the magic of Michael Jackson King of Pop™. We're thrilled to bring this show-stopper to the casino floor. With the latest innovation, high-definition visuals, surround sound and cutting-edge digital effects, you'll feel like you're amongst a crowd of screaming fans at one of Michael's performances.
This 5-reel, 25-line, music-themed 22" touch-screen allows a max bet up to 320 credits and a potential reward of up to 40,000,000 credits! The iDeck™ button allows for an interactive digital experience, complete with MJ iconography. The U-Spin™ screen gives players the opportunity to physically touch and spin a giant sparkling record for additional credits or to enter one of six bonus rounds.
Boogie your way into bonuses based around the original music videos for Michael's popular hits: "Bad," "Beat It," "Billie Jean," "Dirty Diana," "Don't Stop 'Til You Get Enough," and "Smooth Criminal." Other themed bonus features include Smooth Criminal free games, Beat It free game, Moonwalk wilds and Stacked wilds.
With digitally remastered audio and visual entertainment, you'll experience the legendary musician like never before. So go ahead, sing along with other players and dance in your chair. The fun is contagious—maybe you'll even be inspired to perfect your moonwalk!