Potawatomi Bingo Casino's Miracle on Canal Street charity applications process kicks off today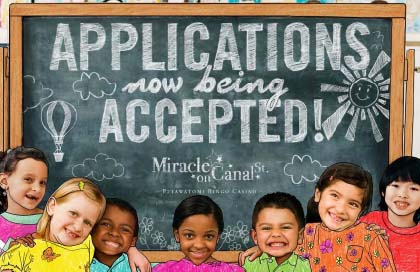 MILWAUKEE – Local children's charities in southeastern Wisconsin will soon have the opportunity to become part of Potawatomi Bingo Casino's signature community program, Miracle on Canal Street, as applications for the 2014 program will be accepted starting today. Since its inception in 1994, Miracle on Canal Street has made 552 donations totaling more than $13.6 million to fund children's programs throughout southeastern Wisconsin
Beginning at noon today, local non-profit organizations which serve children can find the application online at www.paysbig.com/miracle. To be eligible, an organization must have 501(c)(3) tax-exempt status, serve a primary client base of children younger than 18 years of age and be located within Milwaukee, Racine, Washington, Waukesha, Ozaukee, Dodge, Jefferson, Kenosha, Sheboygan or Walworth counties. Applications must be post-marked by Friday, June 13, 2014.  
---
Miracle on Canal Street's mission is to improve the quality of life for children in southeastern Wisconsin. Through funds raised from special bingo games and the generosity of Potawatomi Bingo Casino guests, the program focuses the joy of holiday giving onto those who are the hope for the future.
In 2013, Potawatomi Bingo Casino celebrated the 20-year anniversary of Miracle on Canal Street by awarding 152 children's charities in southeastern Wisconsin a share of funds totaling more than $1 million. The 20 official Miracle on Canal Street charities each received $35,813 and the remaining 132 eligible charities received a gift of $2,633. Miracle funding in 2013 helped support a wide variety of charity projects such as providing meals to low-income children and their families, designing dream bedrooms for children with life-threatening illnesses and maintaining educational music programs that expose young people to the arts.
For complete submission guidelines, please visit www.paysbig.com/miracle.
Potawatomi Bingo Casino is one of two casinos owned and operated by the Forest County Potawatomi Community. It is located at 1721 W. Canal Street, Milwaukee, Wis. The casino is a showcase for high stakes bingo, offering some of the nation's highest daily payouts.  A popular attraction for local guests, tourists and tour groups, the casino features blackjack, craps, poker, and roulette table games, video and reel slot machines, off-track betting, and a variety of live entertainment.  Potawatomi Bingo Casino is committed to raising awareness of the risks of problem gambling, maintaining a level of first-class customer service, while investing in its most valuable asset – its 2,500 multicultural employees.  Through the Forest County Potawatomi Community Foundation and Miracle on Canal Street, the casino supports numerous local charities and community organizations. Driving directions and more information about Potawatomi Bingo Casino can be obtained by calling toll-free, 1-800-PAYS-BIG or by visiting the website at www.paysbig.com.