Potawatomi Chef Helps Judge Navy Cooks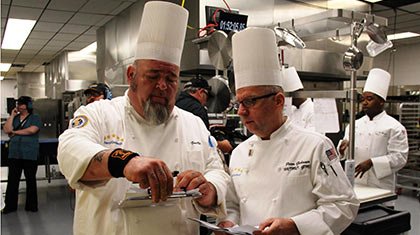 Executive Chef Peter Gebauer had the honor of representing Potawatomi Hotel & Casino, as well as the state of Wisconsin, by serving as a judge at the 2014 CNIC (Commander Navy Installation Command) Culinary Competition at the Great Lakes Naval Station in Illinois.
Navy chefs from around the world competed for top honors by creating two dishes in two hours using ingredients in a mystery basket. The top three winning two-person teams received books, knives and a three-week training program at the prestigious Kendall College cooking school.
Chef Gebauer joined three other master chefs on a panel of nine judges.
---
"It was educational to be able to see how the Navy runs their kitchens that serve up to 10,000 people a day," Gebauer said. "Participating in something like this also enables me to share what we do and make new connections."
Several Navy chefs also had the opportunity to visit the Casino and tour our kitchens.
"They were surprised at the size of our operations and the diversity of food service here," Gebauer added.
Gebauer also shared how much he appreciates the support of his team here and Casino leadership that enables him to engage in these types of events.
Chef Gebauer has been recognized for his culinary expertise including being the recipient of the WRA Salute to Excellence Award and a NRA Operator Innovations Award finalist.
Potawatomi Hotel & Casino features seven restaurants, banquet facilities, employee dining and room service in the soon to open hotel.