Potawatomi Hotel & Casino Announces Chef at Hotel Restaurant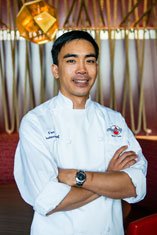 MILWAUKEE – Potawatomi Hotel & Casino has named Van Luu chef of its new hotel restaurant, Locavore. An accomplished culinarian, Chef Luu brings extensive experience in restaurant operations and in opening high-profile restaurants.
In his new role, Chef Luu will oversee all kitchen operations of Locavore and hotel room service while ensuring the highest level of standards and culinary innovation.
Luu has spent 12 years cultivating his skills and learning different styles of cuisines while working at restaurants throughout the United States. He has also had the privilege of working alongside industry-leading chefs, including the famed Charlie Trotter.
---
Luu's deep respect for the industry and high-quality ingredients was defined while working at Charlie Trotter's Restaurant in Chicago, where he learned from the iconic chef himself. He served as Chef de Cuisine at Restaurant Charlie in Las Vegas during its first years in operation. Under his leadership the restaurant earned a one-star Michelin rating and numerous other awards. He spent several years working as sous chef and chef of Milwaukee's Lake Park Bistro and Bacchus before helping to open Prodigal Gastropub in 2013 as the Executive Chef.
"We are thrilled to welcome a talent like Chef Luu to Locavore," said Don Sally, Food & Beverage Director. "Chefs Luu's exceptional culinary experience and fresh approach to cooking is a perfect match for our restaurant and guests."
Luu describes his culinary style as mainly French with a minimalist Asian approach, while not forgetting about other cultural cuisines. He places an emphasis on using quality, local products and produce and is excited about introducing guests to unique local ingredients.
"I'm looking forward to providing the best possible dining experience for guests. For me, there is no better reward than creating a thoughtful menu and watching guests react positively to the lively flavors and high-quality ingredients that blend together for a perfect meal," said Luu.
In addition, Yazmin Figueroa-Guzman has been named manager of the restaurant. Fiqueroa-Guzman has more than a decade of management experience, including opening five restaurants throughout her career.
Locavore will open Monday, Aug. 18, as part of Potawatomi's new hotel. The casual dining restaurant features globally-inspired dishes prepared with local and sustainable foods sourced from the finest local purveyors.
Serving breakfast, lunch and dinner daily, Locavore's menu features small and large plates with bold flavors, composed of local produce, sustainable proteins and lesser-known foods, such as tepary beans, paw paw, ground cherries and Shagbark syrup. Menu items will change according to the seasons and daily harvests.
Locavore is open for breakfast from 6 to 10:30 a.m. daily. Lunch is served each day from 11 a.m. to 2 p.m. and dinner service is from 5 to 10 p.m. daily. The restaurant is located on the first floor of the hotel lobby. For more information or to make reservations, visit www.paysbig.com.
About Potawatomi Hotel & Casino
Set in the heart of Milwaukee, Potawatomi Hotel & Casino is Wisconsin's premier entertainment destination, offering guests the best in gaming, dining and entertainment. The property features seven award-winning restaurants with distinct and unique offerings, including Dream Dance Steak, Wild Earth Cucina Italiana, Locavore, RuYi, Fire Pit Sports Bar and Grill, The Buffet and Menomonee Valley Food Court. The property also features a luxurious 381-room hotel, the intimate 500-seat Northern Lights Theater and more than 60,000 square feet of event space. To discover more, call 800-PAYS-BIG or visit www.paysbig.com.