Potawatomi Hotel & Casino Kicks Off Annual Miracle on Canal Street Program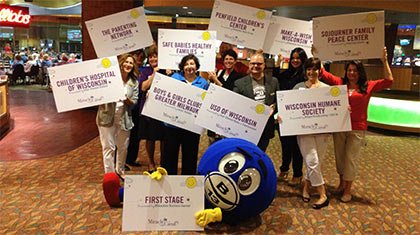 MILWAUKEE – Potawatomi Hotel & Casino's Miracle on Canal Street will help area children participate in after-school activities, become engaged in the arts and provide programming to children of military parents.
Potawatomi kicked-off its 2014 Miracle on Canal Street program Thursday. It serves as the Casino's signature community program, which has helped enhance and improve the lives of children and their families in southeastern Wisconsin.
---
The majority of funds are raised through the Miracle bingo game that also began today, and will be played during every bingo session at the Casino through Dec. 11.
During the presentation that was held in the Bingo Hall, the Casino revealed this year's 10 Miracle on Canal Street signature charities. Signature charities are selected by pre-determined media partners. The ten signature charities and their corresponding media partners include:
Boys & Girls Clubs of Greater Milwaukee presented by Lamar Outdoor
Children's Hospital of Wisconsin presented by Clear Channel Outdoor
First Stage presented by Milwaukee Business Journal
Make-A-Wish Wisconsin presented by Milwaukee Journal Sentinel
Penfield Children's Center presented by Milwaukee Radio Group
Safe Babies Healthy Families presented by Journal Broadcast Group
Sojourner Family Peace Center presented by Entercom Radio
The Parenting Network presented by WITI FOX 6
USO of Wisconsin presented by Clear Channel Media + Entertainment
Wisconsin Humane Society presented by Weigel Broadcasting / CBS 58
Twenty additional charities will also take part in the 2014 Miracle season and will be randomly selected on Nov. 6. On Dec. 12 the Miracle on Canal Street fund-raising total will be announced.
Since its inception in 1994, Miracle on Canal Street has contributed more than 500 donations totaling more than $13.6 million to fund children's programs throughout southeastern Wisconsin. In 2013, Miracle on Canal Street celebrated its 20-year anniversary of by awarding 152 children's charities in southeastern Wisconsin a share of funds totaling more than $1 million.
About Potawatomi Hotel & Casino
Set in the heart of Milwaukee, Potawatomi Hotel & Casino is Wisconsin's premier entertainment destination, offering guests the best in gaming, dining and entertainment. The property features a luxurious 381-room hotel, seven award-winning restaurants, the intimate 500-seat Northern Lights Theater and more than 60,000 square feet of event space. Potawatomi Bingo Casino is committed to raising awareness of the risks of problem gambling, maintaining a level of first-class customer service, while investing in its most valuable asset – its 2,700 multicultural employees. Through the Forest County Potawatomi Community Foundation and Miracle on Canal Street, the casino supports numerous local charities and community organizations. To discover more, call 800-PAYS-BIG or visit www.paysbig.com.