Potawatomi Wins Team Spirit Award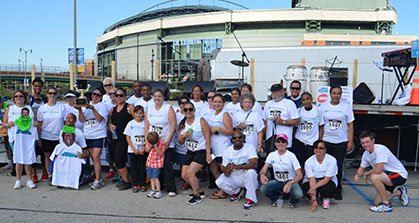 On August 10, more than 160 team members of Potawatomi Bingo Casino walked, ran and volunteered at the annual Hank Aaron State Trail 5k Run/Walk.  The event helps support the trail located in the Menomonee Valley, and provides financial support to the summer adventure bike camps held with youth in the neighborhood.
The Casino had the second largest corporate team and was selected to receive the Team Spirit Award.
"We are proud of the response by our caring team members," said Mike Goodrich, Potawatomi Bingo Casino General Manager. "This is a great example of how we contribute to our neighborhood and showcases the community spirit of our team members."
Over 1,400 people participated in the event including employees from a few other near-by businesses.
The event is hosted by the Friends of the Hank Aaron State Trail organization.