Pumpkin Pancakes and Ground Cherry Sauce—Holiday Recipe Collection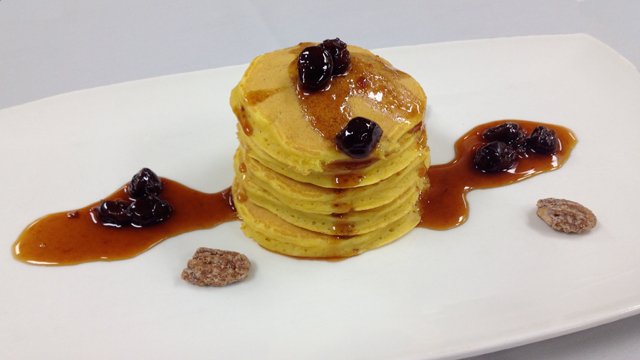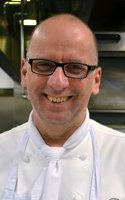 Need a recipe for your next holiday meal? Looking for a new dish to become your family's favorite around the table? Let the chefs from Potawatomi share with you their favorite dish to bring to their holiday get together! 
Pancakes are a staple on the weekends at the home of Executive Chef Peter Gebauer. Kids love pancakes, and his son actually made his first blueberry pancakes at the age of four (with a little help, of course). As the season changes, so do the ingredients; Chef Peter uses maple or agave syrup instead of sugar and if he uses lighter flour, he will add ground flax seeds or oatmeal to keep the recipe healthier. To keep things interesting, Chef Peter also tries to introduce new ingredients like Shagbark Hickory syrup, or as in this recipe, ground cherries.
Native to the Americas, ground cherries were used by the Pilgrims and are delicious eaten fresh, or excellent for pies jams, and preserves of all kinds. The fruit grow inside a paper-like husk (the same as Tomatillos) and grow in the same fashion as tomatoes.
These pumkin pancakes with ground cherry sauce are perfect for breakfast on Thanksgiving morning or even on Black Friday after you come back from the door buster sales!
---