Ramon Ayala Y Sus Bravos Del Norte Show Announced for Casino's Expo Center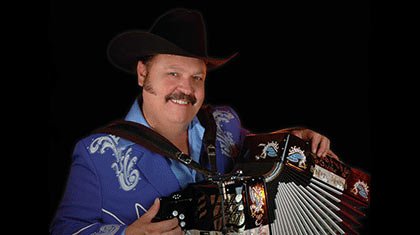 MILWAUKEE – Ramon Ayala, one of Mexico's best-selling musicians, will bring his patented style of Norteño and Conjunto music to Potawatomi Bingo Casino's Expo Center at 8 p.m. Thursday, May 29.
Guests should bring their dancing shoes as the venue will house a giant dance floor for what is sure to be a lively performance. The room will also feature limited general admission seating, beverage service and easy access to free parking in the casino's six-story structure.
---
Known as the "King of the Accordion," Ayala is a master accordionist, vocalist and songwriter with a career spanning over 40 years and more than 105 recorded albums. Ayala began playing the accordion at age six and went on to record his first hit single as a teenager in 1963 alongside Cornelio Reyna. Ayala and Reyna revolutionized and re-invented modern conjunto and norteño music, elevating its mass appeal while recording more than 20 albums together.
Ayala formed his legendary band Ramón Ayala y Sus Bravos del Norte in 1971. Over the years the group went through several transitions while topping the charts in Mexico and the United States with hits such as "Un Rinconcito En El Cielo" and "Chaparra de Mi Amor." Ayala's band members include Fidencio Ayala, Jose Luis Ayala, Mario Marichalar, David Laure and Raul Rosales.
Ayala has earned four Grammy Awards during his career and has been nominated a total of ten times between the American and Latin Grammy Awards.
Tickets go on sale at noon Monday, April 21, and are available for $35 in advance and $45 at the door. All tickets are general admission and are available at the Northern Lights Theater Box Office. Seating is limited and first-come-first-served. Call the theater box office at (414) 847-7922 or www.paysbig.com for ticket availability. Tickets are also available at Ticketmaster.com, or by calling (800) 745-3000. Must be 21 and over.
Potawatomi Bingo Casino is one of two casinos owned and operated by the Forest County Potawatomi Community. It is located at 1721 W. Canal Street, Milwaukee, Wis. The casino is a showcase for high stakes bingo, offering some of the nation's highest daily payouts.  A popular attraction for local guests, tourists and tour groups, the casino features blackjack, craps, poker, and roulette table games, video and reel slot machines, and a variety of live entertainment.  Potawatomi Bingo Casino is committed to raising awareness of the risks of problem gambling, maintaining a level of first-class customer service, while investing in its most valuable asset - more than 2,400 multicultural employees.  Through the Forest County Potawatomi Community Foundation and Miracle on Canal Street, the casino supports numerous local charities and community organizations. Driving directions and more information about Potawatomi Bingo Casino can be obtained by calling toll-free, 1-800-PAYS-BIG or by visiting the website at www.paysbig.com.