Slot Tournaments
The $1,000,000 Big Win
Thursdays & Saturdays in May
Will you be our next $1 million winner? Play with your Club card May 1–31 to earn entries, with 3X the entries on tournament days. Then try your luck in our Thursday and Saturday slot tournaments to score FKC Reward Play and qualify for a chance at one of four trips to Las Vegas to play in the TournEvent of Champions Million Dollar Event™, where you'll compete for $1,000,000 in cash!
Dates & Times:
Qualifying Tournaments: Thursdays & Saturdays, May 5–31
Wild Card Drawings: Thursday, June 7
Grand Finale Tournament: Sunday, June 10
Not a Fire Keeper's Club Member? Learn how to join—it's free!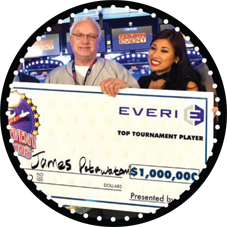 James W. played here and won $1 million last year!