A Brief History of Native American Food to Celebrate Native American Heritage Month
During November, we celebrate Native American Heritage Month as an opportunity to provide awareness and celebrate the rich history and many contributions made by Native Americans. This month is full of opportunities to connect with our family, friends and our culture through the food we all love.
Some background and a quick history lesson: The majority of Native American populations were hunter-gatherers before the Europeans arrived. They relied heavily on food and ingredients that were readily accessible to them in the regions that they lived. Each tribe not only had its own language but also dishes that set them apart. Many of the ingredients gathered and used were in season, contributing to each region's own culinary identity. Native American tribes also developed techniques and recipes that would help them survive harsh climates and circumstances by making food last longer.
For example, fry bread was created out of necessity and survival. Tribes received rations from the government and had to figure out creative ways to make their food last with minimal ingredients available to them. Because of this, there are many versions of fry bread throughout the country. (You can try this recipe of Ojibwe fry bread.)
Tribal cooks would add seeds, nuts, and roots for flavor and texture in their dishes. Harvested nuts and seeds were added to soups, stored for long winter months using unique methods, or ground into a fine powder used as flour to create bread. Fish like salmon, a dependable food source, could be fished and made into a dried jerky using a cold smoking technique to preserve it for more extended periods. Customs like this ensured that they could have a nutritious food supply, especially when traveling long distances.
Meat and wild game were more abundant to the tribes in the Great Plains, which contributed to their meat-heavy diet. The area provided them with various wild game like turkey, ducks, deer, rabbit, squirrel, buffalo, elk, and bison. The meat was considered the main dish and provided them with options to create new plates using herbs, spices, and other seasonings. All sorts of meat could be cooked over an open fire, or smoked, then turned into jerky as well. Animals, like the buffalo, were sacred to many tribes because of its symbolism of strength and unity. This relationship that tribes had with the buffalo made sure to honor the animal and all it provided. They used all of its parts, not only its meat, whenever they hunted for it. The fur, horns, teeth, and bones all had their distinct purposes for different populations. Some used the fat as fuel, bones and horns turned into instruments, tools, or weapons, and fur was made into coats to brave the cold weather.
Fishing was also a prominent source of food for several Native American tribes. Many of them established settlements around bodies of water, like rivers, ponds, streams, and lakes, that were rich with fish, waterfowl, and a dependable water supply for their daily use. These shallow lakes and streams also provided them with grains such as wild rice, which helped supplement their diets. Wild rice is a dietary staple, and a valuable article used to barter and trade since the eighteenth century. Berries, fruits, and natural sugars in tree sap, like maple or corn, were used to add sweetness to their dishes. Nuts and berries were also ground to create different nut butter or jams to add sweetness or seasoning for other foods. For example, some used juniper berries as flavoring used with wild boar.
The Native American people were also very skilled farmers, using their agricultural knowledge and wisdom to produce an abundance of nutritious vegetables, like corn, beans, and squash - North American dietary staples. They grew all three together using advanced farming techniques to ensure bountiful crops every year because of the benefits that they each provided. These crops, nicknamed "the three sisters," could always be planted together. This relationship would sustainably support its growth. Corn stalks provided a pole for beanstalks to climb while also providing shade for the squash that grew on the ground underneath. When harvesting time came around, these ingredients could be used right away or stored for months on end, ensuring their survival through the cold autumn and winter months. Meals like succotash, baked beans, or cornbread were staples that still live on in our modern cuisine today and date back to many centuries ago.
Take a look at these recipes that have been carefully curated by our culinary staff. These recipes showcase Native American cuisine's legacy using ingredients such as wild rice, baked squash, and corn. Most of these recipes have been adjusted and can be made with modern ingredients and measurements for your enjoyment.
You can also celebrate Native American Heritage Month at home with these other recipes for this Ojibwe Fry Bread, Wojape Berry Jam, or Wild Rice Casserole.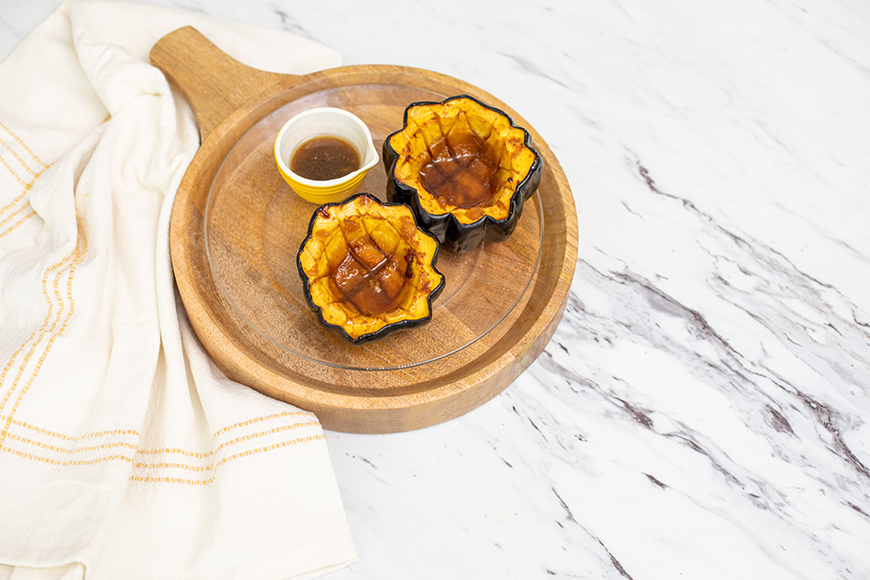 Nut and seed butters are widely used in traditional Native American Indian cooking as a spread and as a seasoning. You can make your own butter by chopping hazelnuts in a food processor until it is a paste or you can purchase it from many health and specialty food stores.
Ingredients
| | |
| --- | --- |
| 3 | Medium-sized acorn squash |
| 1 cup | Water |
| 6 tbsp. | Honey |
| 6 tsp. | Hazelnut butter |
| Optional | Ground dried spicebush, berries or all spice, salt and ground pepper |
Directions
Preheat oven to 350 degrees.
Cut squash in half and remove seeds and strings. Pour water into a baking dish large enough to hold the squash. Place halves, cut-sides down in pan. Bake for approximately 30 minutes, until squash starts to feel soft.
Turn halves over and fill each cavity with 1 tablespoon honey and 1 teaspoon of hazelnut butter. Spread honey mixture over top edges and all over cavity.
Sprinkle lightly with spicebush berries and salt and pepper, if desired. Continue baking for 30-40 minutes until squash is nicely glazed.
Serve with any roast meat, fowl or game.
Serves 6.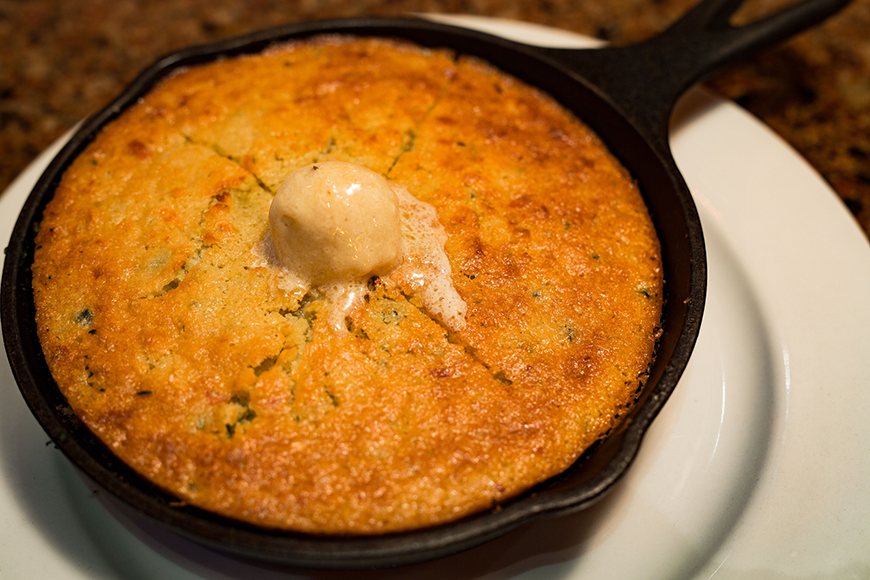 The Zuni kitchens of one hundred years ago had cooking utensils hanging from the rafters and walls and they would cook using a fireplace that would extend across the room. Modern Pueblo kitchens use gas stoves today. Skillet corn bread is popular with both Pueblo and Navajo cooks and can be easily cooked outdoors on a campfire stove or indoors on top of the stove or in the oven.
Ingredients:
| | |
| --- | --- |
| 6 strips | Lean bacon |
| 2 cups< | Yellow, blue or white cornmeal< |
| 1 tbsp. | Sugar |
| 2 tsp. | Salt |
| 2 tsp. | Baking soda |
| 1 tsp. | Ground New Mexican red chili or chili powder |
| 1 ¼ cups | Buttermilk |
| 2 | Eggs |
| ¼ cup | Chopped green onions |
| ¼ cup | Chopped mild green chilies |
| 1 | Seeded and chopped fresh jalapeno |
Directions:
Using an 8 to 9 inch heavy iron skillet, cook bacon until crisp over medium to low heat. Remove bacon, drain on paper towels, crumble and set them to the side. Reserve drippings in the skillet.
Pre-heat the oven to 350 degrees.
In a large mixing bowl, sift together the cornmeal, sugar, salt, and baking soda. In a separate bowl, beat together 1 tablespoon of the reserved bacon drippings, chili powder, buttermilk and eggs.
Heat skillet over medium heat, turning to coat well with remaining drippings. Stir wet ingredients into the dry ones and fold in bacon, green onions, chilies, and jalapenos.
Pour batter into the preheated skillet and bake for about 30 minutes, until a knife inserted in the center of the bread comes out clean and the top is golden brown. Cut in wedges and serve from the skillet.
To cook on the stove top, cover the skillet and cook over low heat for 15 minutes. Invert the break onto the lid or a plate and slide back into the skillet. Cook, covered for another 10-15 minutes, until knife inserted in the center of the bread comes out clean.
Serves 4-6.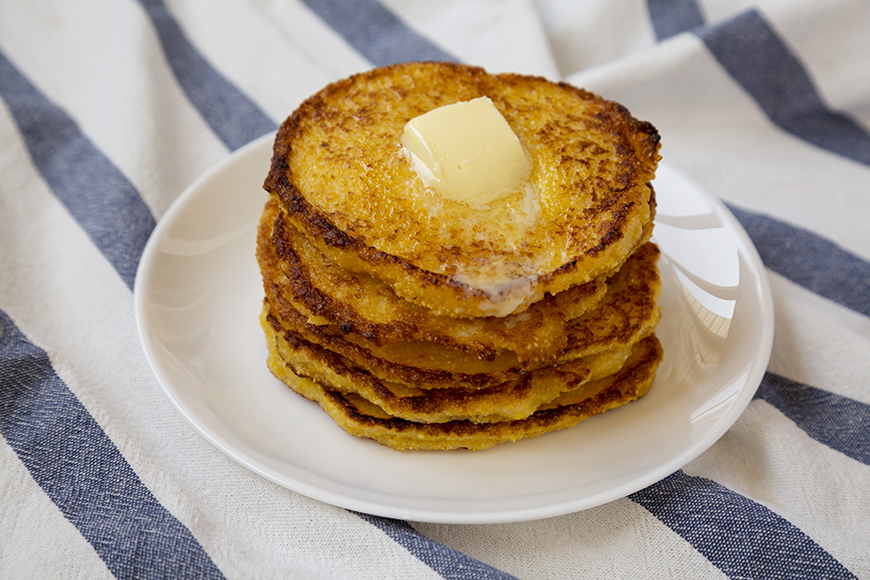 Wild rice is a dietary staple and a valuable article used to barter and trade since the eighteenth century. This recipe is a variation on the traditional Johnnycake and it is delicious accompanied with duck or venison, or try it for breakfast with bacon and maple syrup.
Ingredients:
| | |
| --- | --- |
| ¾ cup | Wild rice, washed |
| 1 ½ cup | Water |
| ½ tsp. | Salt |
| 2 tbsp. | Cornmeal |
| 2-3 tbsp. | Bacon drippings or corn oil |
Directions:
In a medium-sized saucepan, heat rice, water, and salt. Bring to a boil and continue to boil gently for 30-35 minutes, until rice is just tender.
Stir in cornmeal. Allow mixture to cool. When cooled, gently mold into 8-10 cakes approximately 3 inches in diameter.
Heat bacon drippings in a large skillet over medium heat. Add cakes and fry for 2-3 minutes on each side, until golden brown.
Serves 4-6.