Say "BINGO!" at Potawatomi
Sheets lined up, daubers out, balls tumbling, numbers being called – the excitement of it all can be a little overwhelming for a Bingo Hall rookie. If you're a curious novice or a bingo veteran looking to brush up on your skills, look no further. We've got it all right here!
First off, let's get the "Bingo Lingo" straight. Here are some terms you should know:
Bingo Pattern – A predetermined pattern that is required to win a bingo game. The pattern for each game is announced by the Bingo Caller and is displayed on the bingo program and on various display boards throughout the Bingo Hall.
Bingo Program – A daily schedule of all of the games that will be played during a session.
Birthday Bingo – A bingo player may use the date of their birthday as an extra "free space." It is only valid on the actual birthday, and the player must register with the Bingo Caller before the session begins. Birthday number is good for regular games only, no specials or warmups.
Buy-in – The minimum purchase required to participate in a bingo session. The buy-in can be purchased at the admission booth near the Bingo Hall entrance.
Crazy Bingo – A bingo game in which the first number called is a wild number.
Electronic Bingo – If you're looking for the easiest way to play bingo, electronic is the best bet. It involves playing with an electronic bingo aid that allows you to play multiple cards at once—up to 180 cards per game!
Hotball – A special bingo game purchased at the admission booth. For just $1, you have a chance at a jackpot during every game.
Paper – Pre-printed paper that contains numbers in 25 squares arranged in five vertical columns and five horizontal rows. This is the least expensive way to buy-in to a bingo game.
Specials – Bingo games that are not included with your buy-in, which are normally shaded on the Bingo program. The special games may be purchased at the admission booth or from a Bingo Floor Clerk at your seat.
Warm-Ups – Special games played prior to the start of the regular bingo session.
Next, be aware that each bingo game is played with a specific pattern. Take a look below at some of our more popular patterns: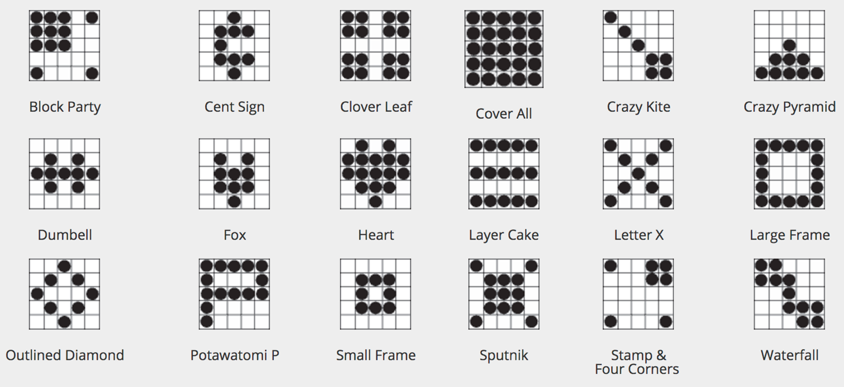 Now that we've covered the basics, let's answer some common questions we hear in the Bingo Hall:
Who can play? Bingo is open to anyone ages 18 and older. No matter your age, it's best practice to bring a photo ID in case you hit the big one. For large jackpots, players will have to produce two forms of identification.
Is it worth your time? Most definitely! Potawatomi's Bingo Hall has some of the largest daily payouts in the country. Some sessions have regular payouts of $2,000. Some individual bingo games have top prizes of $500,000 and even $1,000,000.
Need a dauber? No problem! The Dauber Stop in the Bingo Hall has a wide variety to choose from.
When should I arrive? It's common practice for regulars to arrive up to two hours before the session begins. This way, they have ample time to find a lucky seat, prepare their cards, grab a bite to eat and chat with other bingo lovers.
What do you do if you get the bingo card pattern? Simply yell "Bingo!" loud enough for the Bingo caller to hear. The Caller will stop the game, and a Bingo staff member will come over to verify the win. Please note, bingo must be claimed on the most-recent number called. If the caller has already started announcing the next ball, it's too late to call bingo. Likewise, as soon as the caller closes the game and drops the balls for the next game, any missed bingos become invalid.
What if more than one person calls bingo on the same number? The game payout will be split equally between the winners.
We love our bingo players! They're a friendly bunch, and many of them would be more than happy to help you with any questions you may have. However, we do have a few tips to help you be a well-mannered member of our bingo crew:
Please keep talking to a minimum during the game! This is a key piece of Bingo Hall etiquette. Cell phone usage goes hand-in-hand here, so please be mindful not to use your phone while bingo is in play.
Some people have a habit of repeating numbers as they're called. This can be distracting for other players, so please try to avoid it.
If you're a smoker, make sure you do so only in designated areas. Cigarette smoke can ruin the enjoyment of the game for some players, so please be considerate in where you choose to light up.
Enjoy your beverages in moderation. We do offer alcoholic drinks in addition to other refreshments, but remember to be respectful and keep your wits about you.
Ready to play? Check out our Bingo Calendar, gather your good luck charms and plan your trip to Potawatomi Hotel & Casino.