It's time to hit the road to the LPGA!
Potawatomi Hotel & Casino will be hosting the fourth annual PHC Classic with Symetra Tour. The event kicks off at Brown Deer Golf Course on Tuesday, August 7, while the tournament, featuring a 54-hole stroke play format begins on Friday, August 10 with final-round play on Sunday, August 12. All tournament rounds are estimated to run from 8 a.m. to 3 p.m. The event is FREE, and the Milwaukee County Parks Traveling Beer Garden will be on-site, serving refreshments for purchase.
Symetra Tour is known for being a developmental tour of the LPGA, and helps young women reach their dreams of playing professional golf by getting the chance to achieve their LPGA card, moving along to compete at the highest level in golf. This event will be the official United States qualifier for The Evian Championship and the PHC Classic's top-two finishers will earn entries.
The field will consist of 144 up-and-coming professional golfers who will compete for their share of the $100,000 tournament purse. The winner of the PHC Classic will receive $15,000 and potentially move inside the top-10 on the Volvik Race for the Card money list. The top-10 on the year-end Volvik Race for the Card money list earn LPGA Tour membership for the 2018 season.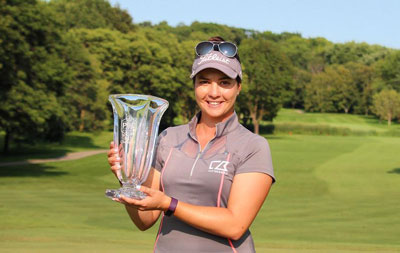 Last year, Brittany Marchand of Canada took home the big prize at the 2017 PHC Classic as Marion Ricordeau of France was the second top finisher. Both earned a chance to get a spot in the 2017 Evian Championship, but ultimately did not make the cut. Watch for the two Wisconsinites, Allyssa Ferrell and Jessie Gerry, participating in this year's PHC Classic tournament!
Follow along the Symetra Tour at SymetraTour.com.