Bachelorette Party Ideas in Milwaukee
The bachelorette. It's her "last hurrah!" Time to cut loose with the girls for a night of fun, celebrating the bride-to-be. Best friends, sisters, cousins, maybe even her mom—all dolled up for a night on the town. It's her party…but it's just as much yours.
You know she wants to go out in Milwaukee…and have a bachelorette party to remember! The questions are:
What to do?
Where to go?
Who to invite?
What's the budget?
---

Time to rally the rest of the girls to discuss! And when you do, consider a place that does it all. A one-stop shop with dinner, drinks, entertainment and games—to avoid having to arrange an expensive limo bus, caravanning around town, or having to adhere to a strict timeline for the night.
Nothing says fun and energy like Potawatomi Bingo Casino, and we've got it all under one roof (plus free shuttle service to many downtown hotels). Imagine the night that could be!
1. Dinner at Wild Earth Cucina Italiana
Walking up at 5 p.m., you take in the modern, earthy atmosphere of Wild Earth Cucina Italiana: swanky, yet warm and welcoming. First to arrive, you head to the bar to start the night with a glass of Pinot Grigio. The girls start trickling in, and soon it's time to venture into the private dining room for dinner, gifts and girl talk.

A couple orders of Fried Artichokes with White Truffle Mayo later, you're on to traditional and slightly wild main courses like Lasagna, Alaskan Wild Salmon Penne and Chicken Carbonara. The group's able to talk the bride-to-be into indulging in a little something sweet, so you all split a Zuppa Misu and some Gelato, the finishing touches on a fabulous meal.
2. Laugh off dinner—at The Northern Lights Theater
After that big meal, you feel like you need to move around and burn a few calories. Perfect time for a walk downstairs to The Northern Lights Theater! You're just in time to grab seats and order cocktails for the 7:00 p.m. Bonkerz comedy show, where you'll laugh until your sides hurt (especially when the comedian decides to put the bachelorette group on the spot)!
3. Bachelorette party games—on the casino floor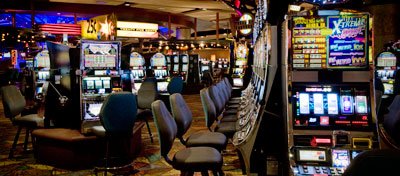 After the show, it's game time! The bridal party has opted for untraditional "games," and instead gives the girls a choice of playing slots or table games downstairs on the casino floor. The group's divided, so it's decided to split up for about an hour so each girl can get her favorite game on.

A couple of party-goers opt for the ultra-girly Sex and The City™ progressive slot machine, where they can play together, on the Four Seasons side of the Casino. Sure beats traditional bachelorette game embarrassment! 
4. Martinis at Bar 360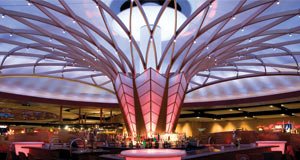 A couple of the girls are "up," having won a little something on The Hangover slot machine (ironically), so they've announced that drinks are on them! The bride wants a chocolate martini, so you head to the center of all the action—to see and be seen—at Bar 360. One thing leads to another, and some random guy is buying molecular energy bombs for the WHOLE party! Turns out he just won it big in the Poker Room.
5. Late Night munchies at The Menomonee Valley Food Court
A few ladies are in need of a snack before bed, so you decide to make one last stop (before catching the shuttle back to the hotel) at the third-floor Food Court. Mozzarella sticks and pizza at Trapper's Grille hit the spot, as everyone starts to slow down and get a little sleepy.

And so the night ends just like it began—a group of girls gathered around a table, giggling and recounting stories from the night, accompanied by iPhone pics as evidence of a good time had by all.