How Americans Plan to Travel this Holiday Season
How Americans Plan to Travel this Holiday Season
It's the holly jolly season, and for many, it's considered to be the best time of the year. Whether it's spending time with family or friends or eating endless amounts of Christmas cookies, there's no doubt that this time of year tends to be happier than the rest. But for some people, it's also a stressful time. Between shopping for presents, making holiday plans with others, or making a delicious holiday dinner, it's no wonder that some people use this time of year for a little "me" time.
We were curious how people were planning to spend this holiday season, especially those who are traveling either internationally or domestically. We surveyed over 1,000 Americans to find out what their 2021 holiday plans look like.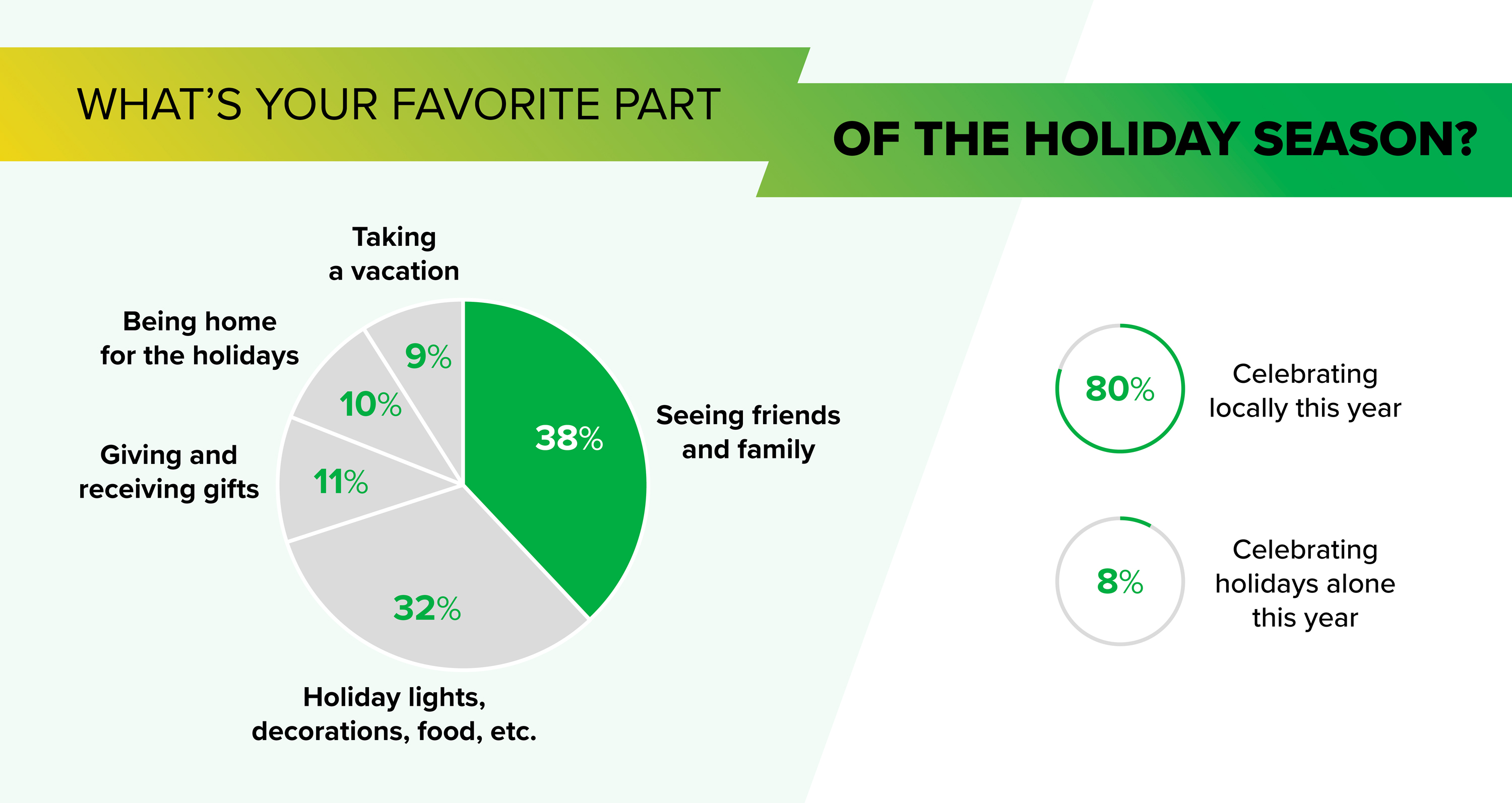 There are many reasons why someone might love the holiday season, and for 38% of respondents, the best part is seeing family and friends. But there are a lot of other factors that go into the holiday season that people enjoy, like looking at Christmas lights or just being home for the holidays. About 1 in 10 people said their favorite part is giving and receiving gifts, and for 8%, it's taking a vacation.
Sometimes that vacation involves traveling to see family, but this year, 80% of Americans said they're celebrating the holidays locally, with only 20% planning to travel somewhere else. And not everyone celebrates the season with loved ones. In fact, 8% of Americans said they're celebrating the holidays alone this year.
Holiday Season and COVID-19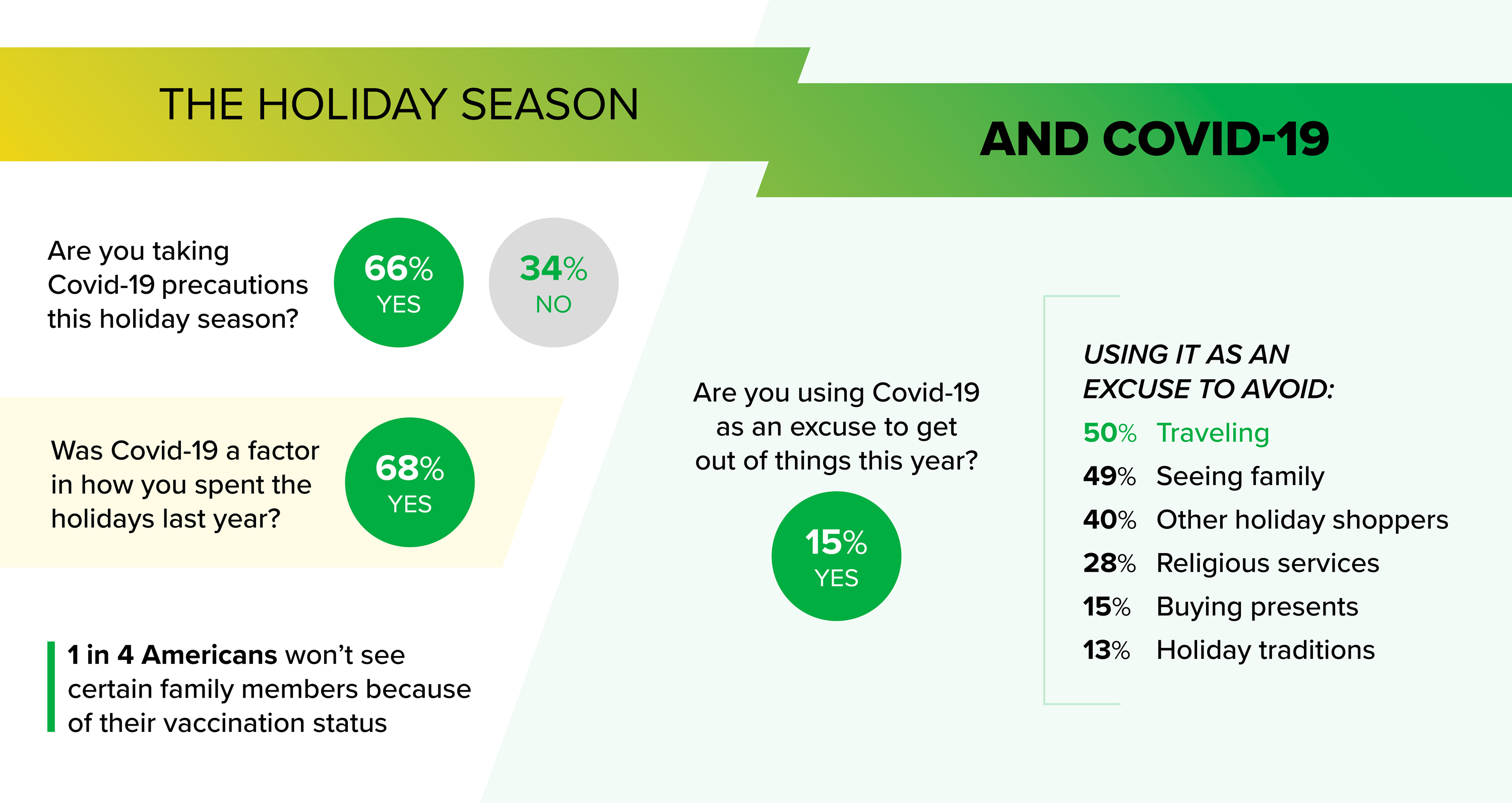 Even though we wished the pandemic away at the end of 2020, COVID-19 still very much exists and still affects how we can spend the holidays. According to survey respondents, 85% are vaccinated against COVID-19, and 66% are planning to take precautions. However, 34% said they're not taking any precautions this holiday season because they're over COVID-19, which is a feeling that many may relate to.
Last year, 68% of respondents said COVID-19 was a factor in how they spent the holidays. Vaccination status is a new factor this year for many planning to celebrate the holidays with loved ones, and over a quarter (26%) of Americans won't see family members this year because of that vaccination status.
Even if someone is tired of the pandemic and over the restrictions or recommendations, they still might use COVID-19 as an excuse to get out of doing something they don't want to do. In fact, 1 in 10 Americans said they plan to use COVID-19 as an excuse not to travel, to not have to see family or friends, to avoid holiday shoppers, or to avoid having to buy presents.
Last Year vs. This Year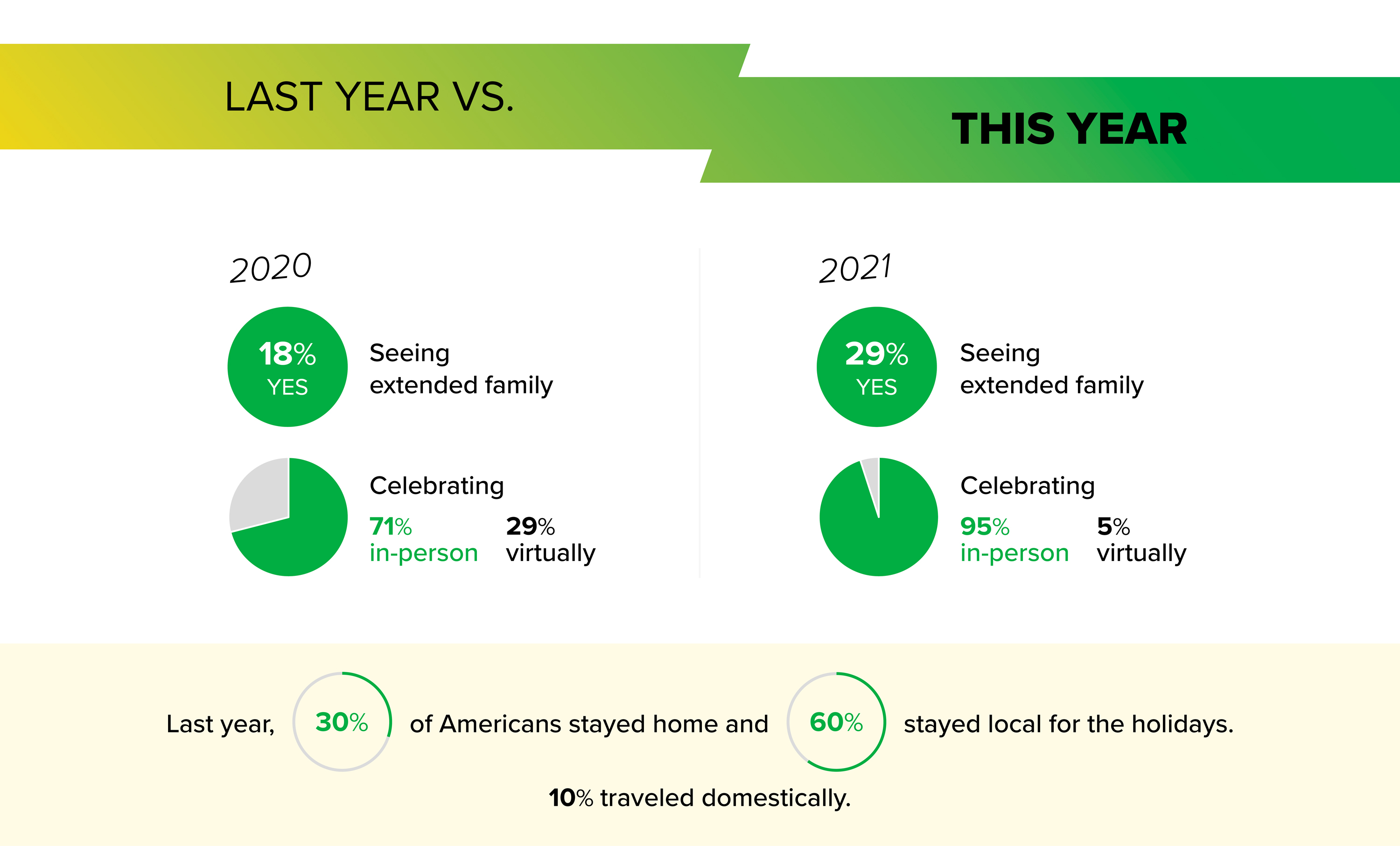 We were also curious how this year's (2021) holiday plans compared to last year's (2020). Although 2 in 4 did not see extended family last year, this year, 3 in 10 are planning to spend time with their larger families.
Last year, Zoom and video conferences dominated holiday celebrations (29%), whereas this year only 5% of Americans are planning to celebrate over the internet. Most will gather in person, which means no more awkward video goodbyes. Americans also stayed home last year, as 3 in 5 said they celebrated the holidays locally.
Traveling This Holiday Season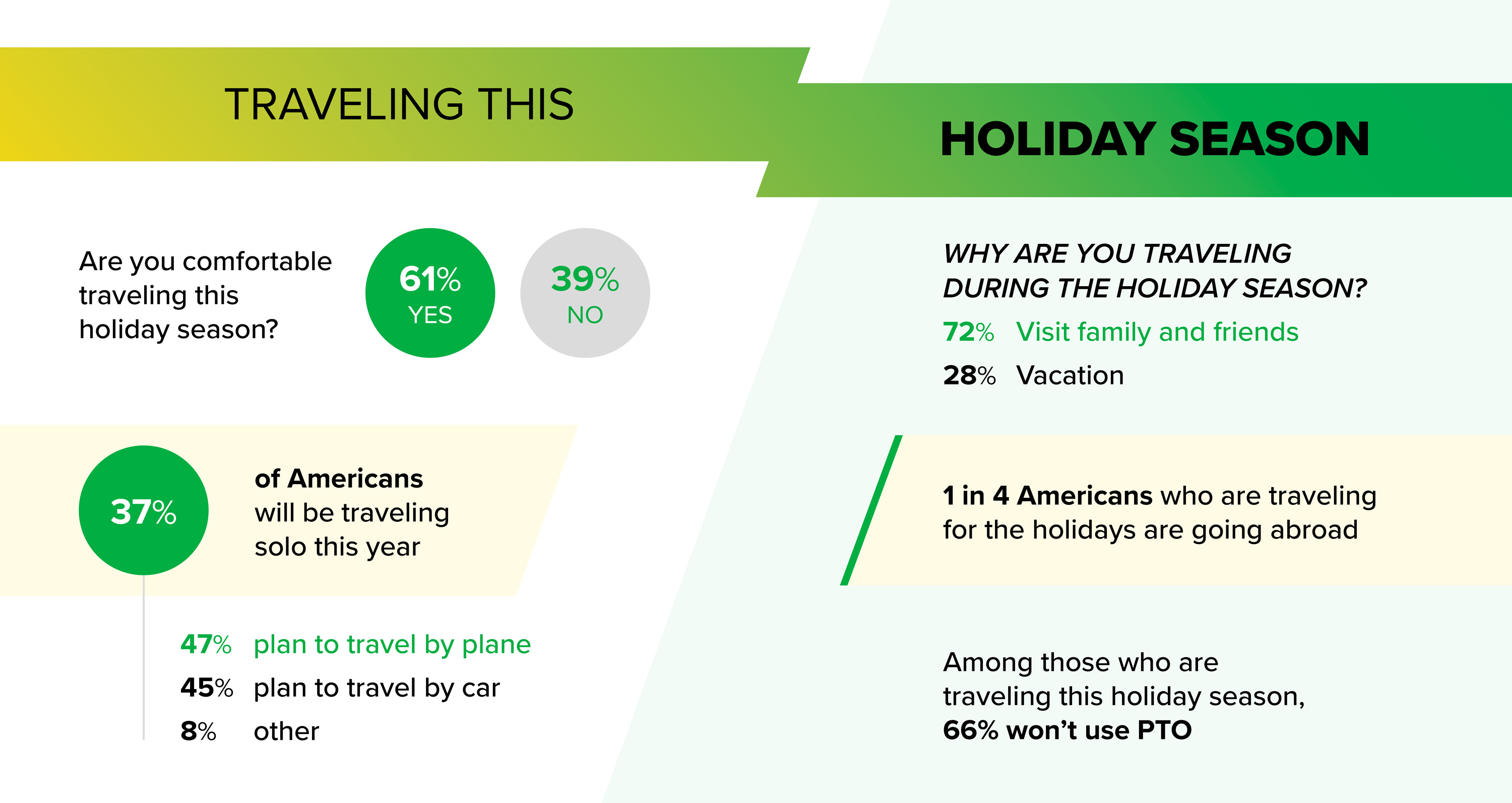 Despite concerns over COVID-19, Americans do feel comfortable traveling. Almost half (47%) of Americans plan to travel this holiday season by plane, and the other half will mostly travel by car.
Why might you travel this time of year? For most respondents, it's to see family and friends. With a few paid holidays, it's also a great time of year to take a vacation, and for 2%, it's a time to escape the winter weather.
This year, about a quarter of Americans are planning to travel internationally.
Staycation Plans and PTO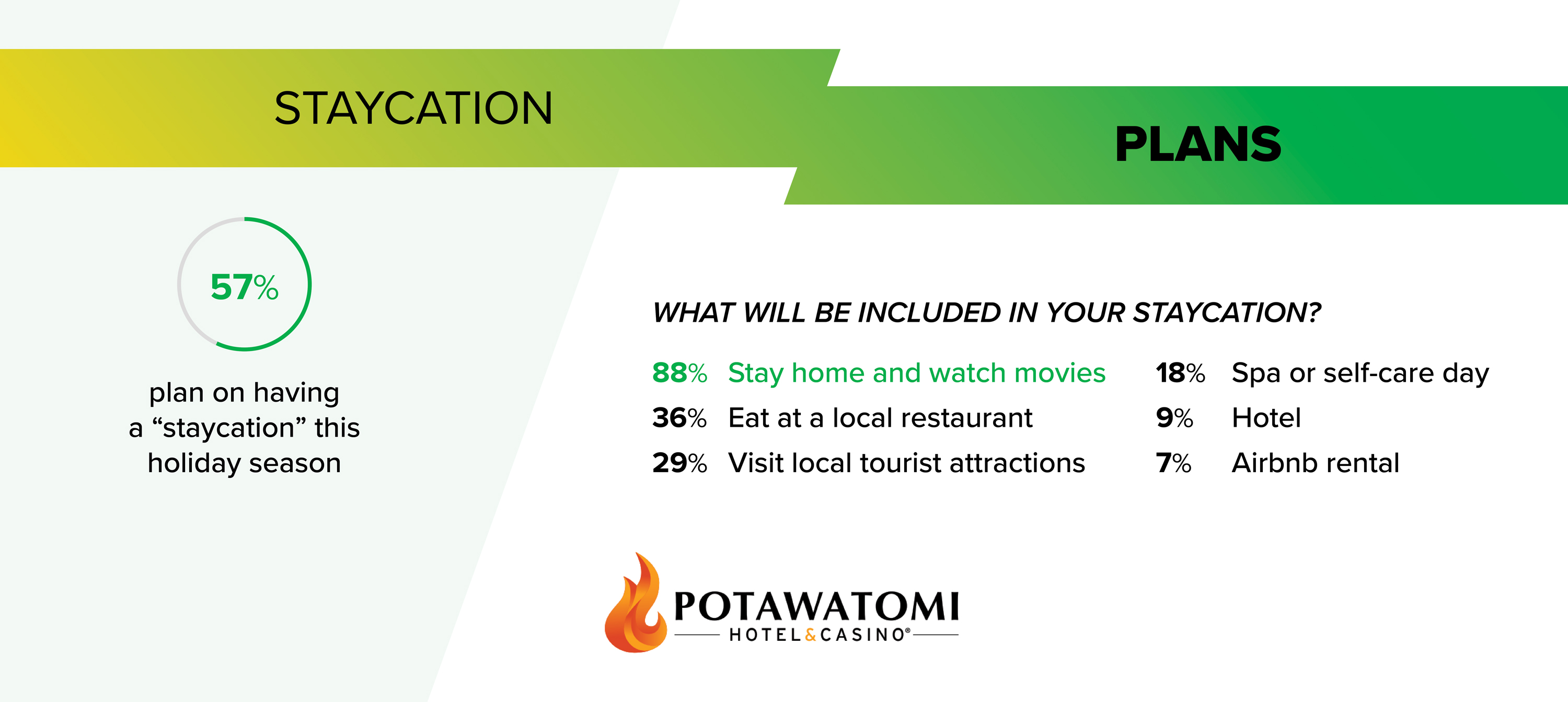 Even if you don't travel, you can still have a holiday vacation. Over half of Americans (57%) said they plan on having a "staycation" this holiday season. Sometimes, it's good to get away but not too far away. Two in 5 of those planning a staycation are planning on just staying home and watching movies, while others plan to make reservations at a local restaurant or treat themselves to a spa or self-care day. Some even plan on renting a hotel room or local Airbnb and playing tourist for the day in their respective hometowns.
For 30% of Americans, they plan to travel after the holidays. And of those embarking on a trip, almost 4 in 10 will be traveling solo.
What about extending that vacation? Among those who are traveling this holiday season, 66% said they won't be using any PTO. In fact, only 17% have specifically saved PTO for this upcoming season. And of those who have saved PTO, over half are planning to take an actual trip.
No matter if you travel or not, we wish you a safe and joyous holiday season!
Methodology
In November 2021, we surveyed 1,004 Americans and asked about their holiday season travel plans. Respondents were 48 percent female and 49 percent male, with an age range of 18 to 73 and an average age of 30 years old.
For media inquiries, contact media@digitalthirdcoast.net
Fair Use
When using this data and research, please attribute by linking to this study and citing http://www.paysbig.com.