How to Play Fortune Pai Gow Poker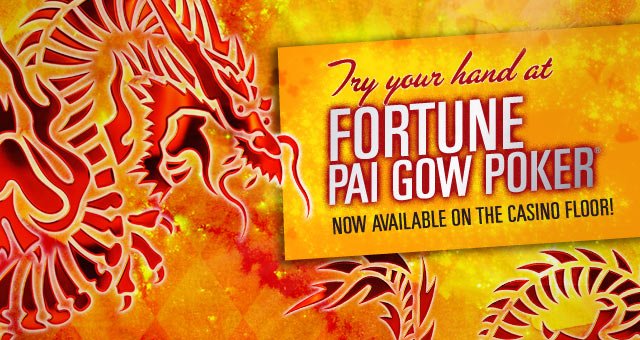 Palm readings, crystal balls, messages of destiny wrapped in moon-shaped cookies...they all tell your fortune. But to win a fortune, try your hand at Fortune Pai Gow Poker®.
With a maximum bonus payout of 8,000 times your bet and up to $5,000 in Envy Bonuses, this beefed-up version of pai gow poker adds a heart-racing twist to an easy, slower-paced game. "Based on player requests, we're excited to bring this new option to our gaming floor," noted Dan Schultz, Table Games Training Supervisor. "The opportunities for increased winnings will really enhance our guests' experience."
Fortune Pai Gow Poker is essentially the same as pai gow poker with a bonus element. Pai gow poker is played with a 53-card deck including a joker. Often called the "blackjack of poker," it's a you-against-the-dealer game where the best possible poker hand wins. Fortune Pai Gow Poker offers an optional bonus wager on a player's best hand possible using all seven cards, which is the Fortune Bonus.
---
Where Luck Meets Envy
You can wager $1 to $100 on the Fortune Bonus. To add more luck to the mix, each wager of at least $5 up to the amount of your original wager qualifies for an Envy Bonus payout. The Envy Bonus is paid when another player at the table receives a four-of-a-kind or higher. With the Fortune and Envy payouts combined, you and the other players could take home a share of a $50,000 prize purse (maximum) for each round of play.
"Pai gow poker is popular because many find its slower pace and simpler style less intimidating than traditional poker games. Yet the Fortune and Envy Bonus elements also appeal to higher-risk players...it really offers something for everyone," added Schultz.
How The Game Begins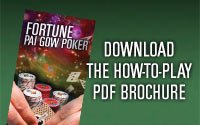 A random number generator determines which player receives the first seven cards. Once all hands are dealt, each player sets their hand. The goal is to create the highest five-card poker hand and the next highest two-card hand. The joker can complete a straight, flush or straight flush; otherwise, it counts as an ace. The five-card poker hand must be the higher hand; ask the dealer if you need help setting your hand.
Once all players have placed their hands face down, the dealer reveals and sets his/her hand. The dealer then turns up all the players' hands. You'd win if both the five-card poker and two-card hands beat the dealer's hand. A split (win-one-lose-one) is considered a push and no one wins. A 5% commission is charged for every winning wager.
For players with Fortune Bonus wagers, the dealer determines if the hand qualifies for any bonus payouts based on the Fortune pay table. If at least one player has a four-of-a-kind or higher, all players with Envy wagers win based on the Envy pay table. But players can't win Envy Bonuses for their hand or the dealer's hand.
Ready to play Fortune Pai Gow Poker? Tables are on the Dreamcatcher side of the Casino next to baccarat. Find out if good fortune will come your way—get into a game during your next visit!