Q&A with The Winery Dogs' Billy Sheehan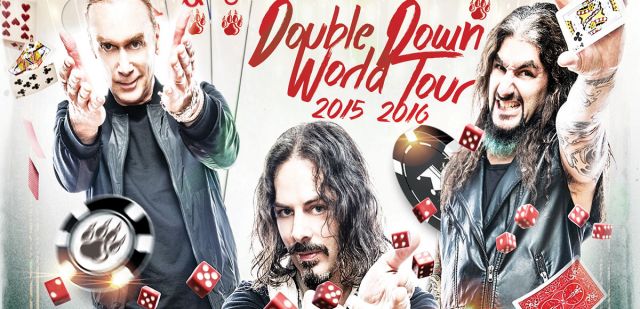 Taking a moment while on tour, guitarist Billy Sheehan (pictured left) answered some questions about The Winery Dogs—their background, inspiration, musical style and playing Milwaukee. Experience this rock show at The Northern Lights Theater­ on Thursday, October 17 at 8 p.m.
---
Potawatomi:
Where do The Winery Dogs gain their musical inspiration from?
Billy
Sheehan:

Well, we've all done a lot of different things but we all started out in a similar fashion. The Winery Dogs is kind of a coming home because it's the music we all started with. When we started this band, we got together in a room and let the music do the talking. There was never too much discussion about direction or style or plans. We just started playing and let that speak for itself. What ended up on the record is about five or six songs that started from that very first meeting.




PBC:
How would you define The Winery Dogs' sound? What can people expect at the show?
Sheehan:

We're a rock band—straight up. We've got some extra flavors mixed in there, but it's mostly straight-up rock for people to sing along to and have an exciting show with a lot of dynamics. It's a sweat fest and a lot of fun.




PBC:
Did you have a sense right away that this was going to work?
Sheehan:

As soon as we sat down I kind of had a sense that it would work because I knew Richie [Kotzen] and I knew Mike [Portnoy] and I had worked with both of them a lot. Richie is a superstar—the world doesn't know it yet—but if I had my way, they will know it. And Mike, of course, is one of the best rock drummers ever, in my humble opinion. I was pretty confident up front that we'd have some good music, but what I did not know, and did not expect, is the kind of response we'd get from this record, which has been really overwhelming.




PBC:
The band's debut album was revealed this year. How was it received?
Sheehan:

Incredible. We played Brazil and the record had only been out for one day and the audience sang the songs so loudly that you couldn't even hear the band on the YouTube video. It was pretty amazing. But everywhere we've gone and everywhere this record has come out has been spectacular and an unexpected success.




PBC:
Your career has spanned decades. How difficult is it to create timely and relevant music?
Sheehan:

I think the best way to go about it is to do what you honestly believe in your heart, and don't think about what's happening right now. Because by the time it gets out and gets around, there will be a lag. I've never tried to chase any kind of a trend or be timely. I just tried to write music that is honest. All music that is honest through all the ages is still timely and still something to listen to today. I listen to a lot of older music and it still fits right in.

Our first attempt was to do it from the heart and to do what we felt our fans would love and what we'd enjoy playing for months on tour.

PBC:
Are you seeing more than one generation at your shows now?
Sheehan:

Yeah, it's multi-generational—it always kind of had been—but now it's a little more noticeable. We definitely appeal to people who like rock. Sometimes that is older folks, but sometimes that's a lot younger folks too. We see kids on their dads' shoulders cheering away and all points in between. I love that too—not only different ages, but also all different types of people—metal heads, progressive people, people into straight-up rock, people into more soulful stuff. I'm very pleased that we've taken some walls down.




PBC:
How did you decide on your name, The Winery Dogs?
Sheehan:

One of the toughest things to do these days is to try to name a band. We had a long list and it wasn't going anywhere. The first thing you do when you find a name is Google it to see who else has it. Of course some other band somewhere has it—whether they're a wedding band or a big band. But no one had The Winery Dogs. And there is such a thing as winery dogs—they're the dogs that have to protect the wineries from burglars. So in a way, we felt that kind of fit us as the protectors of the old ways—the way where people get together in rooms and make real music together. We're kind of fighting for that so it fit us.




PBC:
Have you ever played in Milwaukee? What do you think of the city?
Sheehan:

Oh I love it. It's a great spot for rock. Milwaukee is the home to Summerfest, and that being a central point for a lot of bands to come through. Milwaukee's been faced with a lot of great music in a concentrated period of time that a lot of other places don't get. I think that has made the audience a little bit more sophisticated and bit more understanding of what makes a great show. If the audience responds well and pushes back to us when we push back to them, it's always been an amazing night, and I've never had anything less than that whenever I've played Milwaukee.




PBC:
What are you listening to now?
Sheehan:

I've got quite an extensive music catalog—over a terabyte of music spanning across all generations. But I like Humble Pie, Spooky Tooth, Bad Company, Three Dog Night, everything by the Beatles, everything by Hendrix, everything by Bowie…




PBC:
What's on the horizon for The Winery Dogs?
Sheehan:

We all got together with the idea that this wouldn't just be a project, but rather a band that we all commit to as our main focus. We plan on having it that way for years to come. For me, to have a little project on the side would sell the audience short, because they put their faith and emotion into a record that they like and I don't want to let them down by just going off somewhere else in a year. We're already booked well into next season and the commitment between all of us in the band is rock solid.




PBC:
Any messages for your fans?
Sheehan:

Looking forward to seeing a lot of great old friends that I had in Milwaukee and I hope that a lot of them come out to the show. I'm always excited about heading to Milwaukee and we will not let you down.