Getting Engaged in Milwaukee—Lady Luck Lends a Hand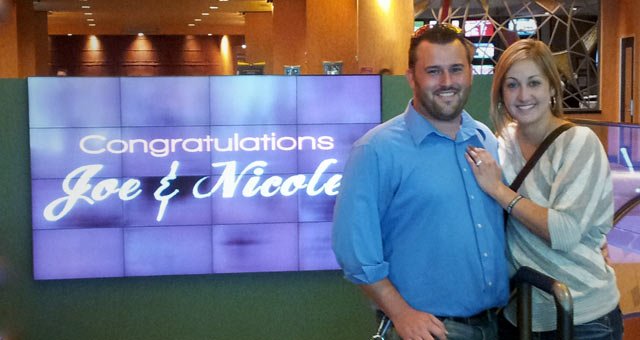 Joe K. had Lady Luck on his side Saturday, September 14, as he prepared to propose to his girlfriend of five years. When it came to planning his proposal, Joe knew he needed to find a place that would catch his girlfriend Nicole off guard, but it also had to be a big enough space to hide all of their friends and family who he included in on the surprise. It was ultimately Potawatomi Bingo Casino that fit the bill.
With the help of an enthusiastic group of Casino team members, Joe was able to plan the perfect surprise proposal—one that swept his girlfriend off her feet.
---
Setting the Plan into Action
Joe told Nicole they would be meeting his boss for an early dinner at Dream Dance Steak to talk about a business project. They had planned to go down to the Casino a little earlier that afternoon to try their hand on a few slot machines.
As they settled in and started playing, a few Potawatomi team members stopped by and asked if they could take a picture of the couple for the Casino's Facebook page. Nicole eagerly agreed and as the two of them started posing for their photo Joe dug the ring out of his pocket and dropped to his knee, asking "Will you marry me?"
The Moment She Said Yes
Nicole froze and didn't know how to respond—thinking it was just a joke, until Joe asked again, "Will you marry me?" When Nicole looked down and saw that he was, in fact, serious, she burst into tears of happiness. While the two Potawatomi team members busied themselves taking pictures of the special moment, she said "yes!"
Celebrating with Family
Following their engagement the couple walked over to the escalator and caught a glimpse of a congratulatory message on the giant screen that Joe had prearranged. They then headed down to Bar 360 to announce their engagement and celebrate with a group of friends and family that Joe had secretly invited to surprise his fiancé.
And Then, There's Lady Luck
Before leaving the Casino later that night Joe and Nicole made one last stop by the roulette wheel, where they placed a bet on number 14—to commemorate their engagement date. Lady Luck worked her magic once again—and as the ball rolled to a stop on the number 14, Joe and Nicole celebrated their luck and headed out for the night as a newly engaged couple.
On behalf of all the team members at Potawatomi, congratulations Joe and Nicole!