Learn More about Central Waters Brewing Company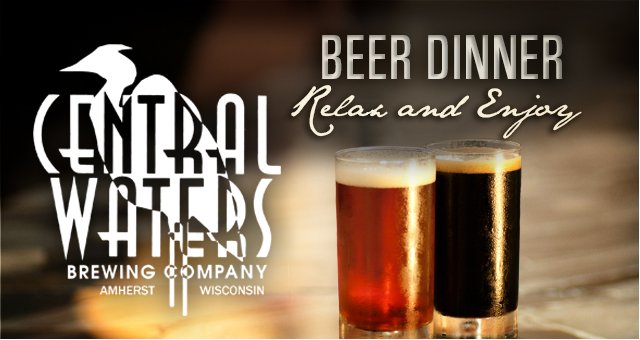 One for the Environment
Central Waters Brewing Company in Amherst, Wisconsin is "making the world a better place, one beer at a time"—and that's not just by serving great-tasting beer.
---
With 1,000-square feet of solar collectors (24 panels), radiant floor heating and a tap room made of recycled products, this microbrewery is all about being "green." In fact, it was the first green-powered brewery in Wisconsin. Besides converting solar energy into brewing power, Central Waters practices sustainability in other aspects of its beer production. It harvests grain from an on-site silo, minimizing packaging waste. The brewery also works with local farmers to recycle the grain into feed for livestock or compost after the brewing process is complete. By committing to these practices, Central Waters has drastically reduced its use of natural gas, and thus, its carbon footprint. Now that's a beer you can really feel good about drinking!
A Green Beginning
In 1996 friends Mike McElwain and Jerome Ebel bought at old brick building in Junction City. They cleaned and restored it, then installed used dairy equipment, retrofitted for brewing beer. Voila! Central Waters Brewing Company was born. The brewery officially opened in 1998, serving the suds in growlers and kegs. It has since changed hands, relocating to its current location in Amherst with owners Paul Graham and Anello Mollica. Central Waters now bottles its craft beer, serving over 200 retail locations in Central Wisconsin and 18 styles of the frothy beverage.
Wisconsin-Proud Pints
From the Honey Blonde Ale to the Bourbon Barrel Cherry Stout, Central Waters' brews are accented with flavors and geographic inspiration from around the state. The Honey Blonde Ale contains hints of real Wisconsin honey, the Glacial Trail India Pale Ale is named for the historic trail running through Central Wisconsin, and the Hop Harvest Ale features Wisconsin-grown barley and hand-picked hops, supporting the farmers that make brewing possible. And, coming full-circle back to the brewery's environmental efforts, a portion of the sales from Shine On Ale helps to fund renewable energy and sustainability through a partnership with the Midwest Renewable Energy Association (MREA).
Thirsty? Care to sample a few? We'll spare you the road trip up north…
and help you get to know this upstanding brew house more intimately.

Dream Dance Steak is hosting Central Waters Brewing Company for a beer dinner with owner, Anello Mollica on Monday & Tuesday, September 24 & 25. The dinner features five craft beers paired with delectable dishes prepared by Head Chef, Matt Baier.
Courses include:
Crispy Pork Belly topped with romesco sauce, trumpet royale mushrooms and Grand Cru Surchoix cheese and hop dust. Paired with Glacial Trail IPA


Muddy Puppy Braised Short Ribs served with Dauphinoise sweet potatoes, parsnip chips and purple cauliflower. Paired with Muddy Puppy Porter

Cost is $55 per person. The Monday dinner is already sold out; reservations are being accepted for the Tuesday night dinner only. Make your reservations today.