New 1¢ Slot — CSI New York Miami Las Vegas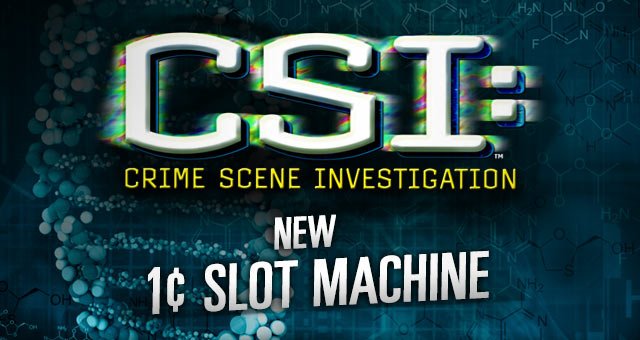 By Denise Welnak
Murder. It sends a chill down your spine. But at the same time, you want to know more. Who's the victim? Where did it happen? When? How did he or she die? Why was the person killed? And most importantly—who did it?!
You've watched plenty of CSI episodes, always intrigued by the mystery and science behind the cases, losing yourself in the crime drama. It's an edge-of-your-seat ride until the end of the hour—and heaven forbid you miss the ending! You are fully invested in these cases, not just passively watching TV.
---
Is it in your blood?
What if… you had the chance to interact with the forensics team and analyze crime scenes? If your pulse quickens with excitement at the thought, you might just be our newest CSI criminalist. Test your mystery-solving skills with these clues and discover where you'll report for your first assignment:
First clue: The tools you need to crack the case are located in one central location within the Menomonee Valley.
Second clue: The crime may have actually occurred in Las Vegas, Miami or New York.
Third clue: As the investigation unravels, there may be money in it for you.
Congratulations! Potawatomi Bingo Casino has granted you special access behind the yellow tape with CSI New York Miami Las Vegas, our newest penny slot machine. You'll investigate crime scenes, gather evidence and search for the suspect, all the while gaining credits and potentially winning some serious cash!
CSI New York Miami Las Vegas is a 5-reel, 30-line video slot game that's really three games in one. Choose and change your location (and the corresponding series' characters) at any time with a swipe of the screen. Each version features a set of real video clips from the respective show.
As you spin the reels, the "CSI" symbol is wild and substitutes for all symbols except "Trace Evidence" and "Bonus with Crime Scene Tape." "Trace Evidence" is also wild and substitutes for all symbols except "Bonus with Crime Scene Tape."
Build your case
Look for "Trace Evidence" on the last reel during any spin to enter the "Trace Evidence Bonus." In this bonus, the lights go out and a flashlight sweeps across the screen revealing forensic evidence and extra "Wild" symbols for some killer payouts!
Snap up three or more crime scene photos (in the original game reels) and you've triggered another bonus screen. There, you'll scan fingerprints and search the suspect database for a match, leading to one of two possible features: "Crime Scene Pick Bonus" or "Crime Lab Free Games."
In the first feature, you'll try to gather evidence in the crime scene by touching (on screen) highlighted areas of the room for credits (evidence credits are multiplied by the original bet multiplier). If three or more pieces of evidence are found, you're heading to the lab for the second "Crime Lab Free Games" bonus.
In the Lab, you'll be awarded 7–12 free games. Plus, if "Bonus with Evidence Tape" symbols appear on three or more reels, extra free games are awarded. And like any real forensic investigation, if you can gather DNA evidence, that might be your big break! If Blue, Green, Yellow, Red or Purple DNA appear in any position on reels 1, 2, 3, 4 and 5 respectively, the multiplier is increased for the current and remaining free games. You may also receive a free game enhancement such as "Multiplier," "DNA Found" or "Symbol Wild," adding additional credits or wins.
You've gathered all the details, now it's time to write your own episode of CSI—and potentially, get paid! The mystery awaits.
Find CSI New York Miami Las Vegas on the Dreamcatcher side of the Casino, between Dream Dance Steak and the High-Limit Room. On your way, enjoy our new, wider slot machine aisles. We hope the added space enhances your Casino experience!