New Penny Slot Machine—Family Guy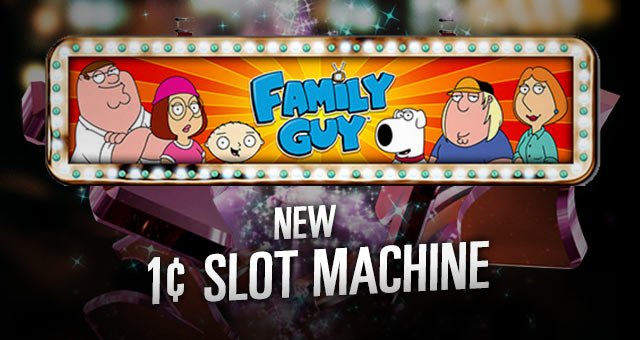 Can't get enough of your other family—the animated sitcom one—Family Guy? Look no further. We're bringing the Griffin gang to the casino floor for your slot-playing entertainment every day of the week, 24/7.
---
Family Guy™ is our new 5-reel, 250-coin, 30-payline 1¢ multilevel progressive video slot located on the Four Seasons side of the Casino (under the snowflakes) near The Northern Lights Theater. In the base game, rack up credits and watch hilarious video clips in features such as "Family Guy Favorites," "Classic Cutaway" and "Ollie Williams Credit Report." Also watch for the six Family Guy characters to randomly appear on-screen, delivering exciting bonus features like scatter pays, random WILDs, credits and multipliers during character bonus features.
Get three or more "World Domination" symbols and you've triggered one of six character-themed bonus rounds: "Chris' Closet Bonus," "Brian's Big Dig Bonus," "The Drunken Clam Bonus," "The Chicken Fight Bonus," "Lois' Hot Free Spins" or "Stewie's World Domination Progressives."
With five pay tables, a multi-layer display and stunning graphics, this game will draw you in to the Griffin's dysfunctional world—for the chance to bring some serious dough home to your own family. Giggity giggity!