New Penny Slots—Off to See the Wizard!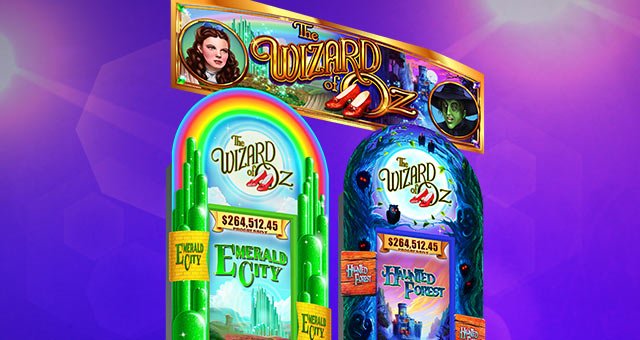 Prepare to be transported down the yellow brick road to the Land of Oz. Like Dorothy and Toto, you'll explore The Emerald City™ and The Haunted Forest™ in our two new Wizard of Oz™ 1¢ wide-area progressive slot themes, located on the Dreamcatcher side of the Casino between the South Lobby and Bar 360, near the "Texas 5" bank.
---
Both games are played with five reels and offer progressive and bonus features, with "Wild" symbols wild for all except "Bonus" and "Progressive" symbols. Watch for the "Glinda the Good Witch" (Emerald City) and "Winged Monkey" (Haunted Forest) features to randomly appear during base game spins, providing extra wild symbols and free spins.
Wheel Bonuses are triggered in both games when three scattered "Bonus" symbols appear on reels 1, 3 and 5. In these bonuses, the wheel can land on various characters or symbols from the movie, or Free Spin Bonuses. Get a free spin bonus and "Wild" bubble (Emerald City) or apple (Haunted Forest) symbols will land on random reel positions, creating additional ways to win.
These vibrant, state-of-the-art slot machines are easy to spot clear across the casino floor, both featuring dual vertical 32" high-definition screens for a game experience that draws you into the Land of Oz. You may just have the feeling that you're not in Wisconsin any more!