Planning the Perfect Holiday Party in Milwaukee
WINTER IS COMING!
This means there are plenty of holiday parties, corporate gatherings, fundraisers and all sorts of other special events during this season where we get to dress up glam and celebrate with friends and loved ones. Now if you're one of the lucky people, you only get to attend these events. If you're on the other side of things and you're in charge of planning a holiday party for work, don't fret, we've got some good news for you.
The best way to tackle the busy (and cold) holiday season and all the events that come with it is to PLAN PLAN PLAN! Whether you're planning your corporate holiday party or just a small get-together with friends and family, we've got the perfect venues for you to have a good ol' time.
Event spaces to meet every need
With our recent hotel expansion, we have added new spaces, including the Legacy ballroom, for all your holiday events. This means more space to dance, eat terrific food and drink your favorite holiday beverages (pass us the sparkling wine!) with up to 630 of your closest friends. Don't have that many? No worries. Our Legacy Ballroom can sectioned off for smaller gatherings to fit your needs, or you can book one of our other spaces your celebration.
With talk of all things new, let's not forget about our Event Center, where we have been hosting the city's biggest New Year's Eve party, MKENYE! If you are looking to host your own holiday party, we've got package deals available for events hosted November through January that include free self-parking, free valet parking for overnight guests and free holiday décor. The fun doesn't end there; each attendee also receives Fire Keeper's Club® Reward Play so that you can try your luck at any of our games and make it an even better time.
Sales and catering experts
Holiday party planning can be incredibly stressful and overwhelming, which is why we have a team of Sales & Catering Managers that can walk you through the entire process, so that you can save that energy for actually enjoying every single moment of your special event. Give us all the details and we'll take care of the rest. We customize your event and menu exactly the way you need it. You just have to worry about looking your best and enjoying the great food, drink, and your guests.
Speaking of which, the best part of any holiday party is all the terrific food that you get to eat. The food is a vital part of any special event, which is why our in-house catering and pastry chefs will make sure their options fit your guests' palate, providing an extensive menu of enjoyable options, whether it's buffet-style breakfasts, a buffet for your corporate luncheon or a delicious dinner for all to enjoy, complete with appetizers and desserts. Whatever you choose, it is sure to be tasty and memorable.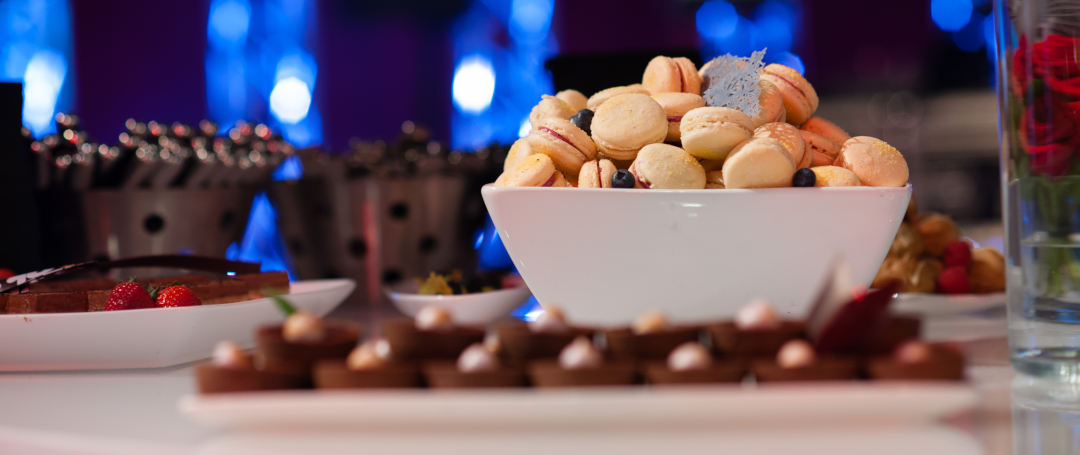 Holiday macaroons from our in-house pastry kitchen
Beauty and spa services
Looking to revamp your look for the holidays? Get a makeover at Ember Spa, where our staff of dedicated beauty professionals will leave you looking your very best for this holiday season. Whether you are looking for a new do, a new cut or just refresh what you already have, our spa team is going to leave you feeling revamped. If you're not feeling a new look, treat yourself to a massage, spa facial or full body scrub, for a job well done. After all, planning an event is never easy, but you managed to do it. Good for you. Now sit back and relax.
A party that never stops
One of the best parts of hosting your holiday event at Potawatomi Hotel & Casino is that not only will you be hosting it at one of our beautiful venues, but our casino is open 24 hours, so the fun doesn't have to end when the party does. With over 2,500 slot machines on the floor, our Poker Room, table games galore, including Blackjack, Craps and Roulette, as well as our expansive Bingo Hall with its Night Owl sessions, there's more fun to be had for you and your guests. Gambling not your thing? Stop by Bar 360 for some more drinks or head over to the Topgolf Swing Suite next to the Fire Pit Sports Bar & Grill for more fun with your friends.
If you are on the search for the perfect holiday party spot in Milwaukee, you've found it. Potawatomi Hotel & Casino offers the best service, food and after-party extras, not to mention free parking and luxurious hotel rooms for any out-of-town guests, all in one location! To learn more and request a proposal, check out www.paysbig.com/meetings/social.