Play Low-Limit Table Games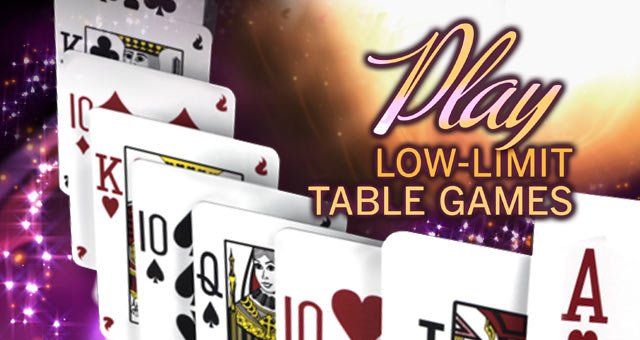 What's your go-to table game to play? Blackjack? Craps? Baccarat? No matter which game is your favorite, chances are Potawatomi Bingo Casino has it.
Although the Casino started out as a bingo hall more than 20 years ago, we soon added table games to our offerings. In 1999, blackjack was the first table game on the floor and we have been growing ever since. In fact, we have over 80 table games and more than half of those tables are dedicated to blackjack.
Much of the table games we currently offer is a direct result of what you, our guests, have requested. We do our best to bring you the games you want and at the table limits you desire. We have heard your requests about wanting more low-limit table games, and we're happy to say that we have them!
Here's a rundown of some of the new things we offer on the gambling floor, as well as some things you may not have known we had.
---
Blackjack
If you are new to blackjack or would prefer to play at a lower table limit, you will be excited to know we have you covered. You can play $5 blackjack Sundays through Thursdays in the pit near The Fire Pit Sports Bar & Grill from 11 a.m. until 4 p.m. Plus, $5 tables are available on Fridays and Saturdays in the pit near Dream Dance Steak from noon to 7 p.m.
Craps
While craps may seem intimidating to play, once you learn the basics, it just might become your new favorite game. And, what better way to learn than at a $5 table? A low-limit $5 table is available Sundays through Thursdays from 11 a.m. until 4 p.m. All of our craps tables are located on the Dreamcatcher side near Dream Dance Steak.
Double Deck Pitch
Blackjack with two decks—that's double deck pitch. The dealer operates with two decks of cards in-hand and typically deals the cards face-down. This game is offered in the Solstice Lounge with minimum wagers starting at $25. A lower-limit, face-up double deck pitch is available on the main casino floor.
The Solstice Lounge also offers regular blackjack. So, if you would prefer to play in a non-smoking environment, ask a floor supervisor to arrange access to the Solstice Lounge.
Carnival Games
Fun games abound in the Carnival Pit, located on the Dreamcatcher side of the Casino, near the bottom of the escalator. This area offers 15 tables, including Casino War®, Four Card Poker®, Three Card Poker®, Spanish 21®, Ultimate Texas Hold 'Em®, Let It Ride Bonus® Poker and blackjack.
Minimum bets in this pit are low and range from $5 to $10. With so many different games in one area, it's easy to try them all!
Baccarat
Considered one of the oldest casino games, baccarat is another popular table game that is really simple to play. In order to accommodate the growing demand for this fun and easy game, tables are offered 24 hours a day, every day and have table limits from $10–$2,000.
Poker
Our 20-table Poker Room, located on the third floor right off of the skywalk, offers a variety of poker games. Guests have asked for lower limit tables, so we have $1–$2 games available.
Another request: Seven Card Stud. This classic poker game is available on Friday afternoons. If you're interested in playing, call the Poker Room at 414-847-7605 in advance to get on the list.
If there is ever a poker game you want to play that isn't open on the floor, talk to the Poker Room staff. They will add the game to the board in the room to see if other players are interested in playing. If there are 6–8 people interested in playing, the staff will open the game for play.
Potawatomi Bingo Casino prides itself on giving guests like you the games you want to play in order to make your entertainment experience even more enjoyable. If there's something you would like to see on the gambling floor, let us know in the comment section below.