Q&A with The Australian Bee Gees Show's Matt Baldoni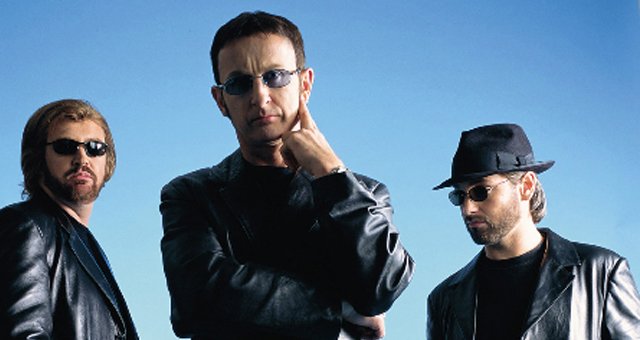 Before departing from his full-time gig in Vegas, The Australian Bee Gees Show's Matt Baldoni (pictured above as Barry Gibb) took a moment to talk about their show, Bee Gees fans and playing Milwaukee. The Northern Lights Theater is looking forward to the trio's run of shows at the end of October through early November.
---
Potawatomi Bingo Casino:

The Australian Bee Gees have entertained fans all over the world. Tell us about the fan experience at a show.

Matt Baldoni:

Well, I suppose the best people to speak to about that would be the fans! But if I may speak on their behalf, I believe what they get by coming to The Australian Bee Gees Show is a respectful representation of one of the most important musical groups in history—with huge respect towards musical and vocal authenticity, historical accuracy and tons of fun. All wrapped into a wonderful multimedia package with a live band, lights, video, and costumes that cover a body of work that spans five decades of hit records.

Potawatomi:

How did The Australian Bee Gees Show originally come about? How has it evolved over time?

Baldoni:

Our group started in Melbourne, Australia 17 years ago, when the main cast observed that there really was not anyone doing a proper tribute to the Bee Gees. They were all fans and knew the music, so they created this tribute show from the ground up and began international touring engagements almost immediately. Over time there have been many specific aspects of the show that have changed—music, costumes, video production that still continue to evolve today.

When you're working with this a body of work large, for example, the song choices change depending on where our touring destinations are in the world. And when the show arrived on the Las Vegas strip to begin its residency (now in its third year at the Excalibur Resort), some other things had to be changed and added to give it a little more of that "Vegas style." When our new touring production began in Chicago this past summer, it was expanded to include a more Broadway-style format complete with various costume changes, additional music, a larger band, video narratives and more.

Potawatomi:

How has the show resonated with Bee Gees fans?

Baldoni:

It's my belief that we are sort of the "guests" of Bee Gees fans. We came along after some of these people had already been fans for 30 years, so we have a responsibility to them to give their favorite music the proper respect, which I believe we do. Most, if not all, of the fans are thoroughly pleased and inspired, taken on a journey through many of their own memories and life stories by revisiting these songs. Also, it is unfortunate that all but one Gibb brother have left us, and that surely resonates sentimentally with millions of fans worldwide, as well as with us. People can still see Barry, but they can no longer see Robin or Maurice in person, so if they come see us they can still get to see the closest thing possible to those two Gibb Brothers.

Potawatomi:

You have been reviewed as the top Bee Gees tribute artists in the world. What makes your performance stand out from the others?

Baldoni:

We are very flattered by that, but I don't believe that's the goal of the company. It's not a contest for us. There are many competent Bee Gees groups all over the world, but it's ours that has made it to the Vegas strip where all tribute artists would love to be, and we are very grateful for that. If we are set apart from any others, I think it's because of two things: First, we are all individually concerned with being the best musicians we can possibly be and we've all been working on that most of our lives. Second, we are no different than the people who come to see us at Potawatomi or anywhere else. We are fans, just like you! We love singing these songs, playing them and having a good time with you. There's no disconnect between us and our audience, we are all here to have fun and enjoy the music of the Bee Gees.

Potawatomi:

When you're not performing Bee Gees hits, what type of music are you listening to?

Baldoni:

I can only speak for myself on this one... as we all have different tastes. I am a guitarist and singer of American blues-based rock music by origin, so I am usually listening to who I call "the Gods" – people like Jimi Hendrix, Jeff Beck and Eric Clapton, and singers like Paul Rodgers, Chris Cornell and Jeff Scott Soto.

For my money, the greatest rock band in the world right now is a band called The Winery Dogs, who play at Potawatomi's Northern Lights Theater about a week before we do. We'll just miss them!