St. Patrick's Day 2012 Specials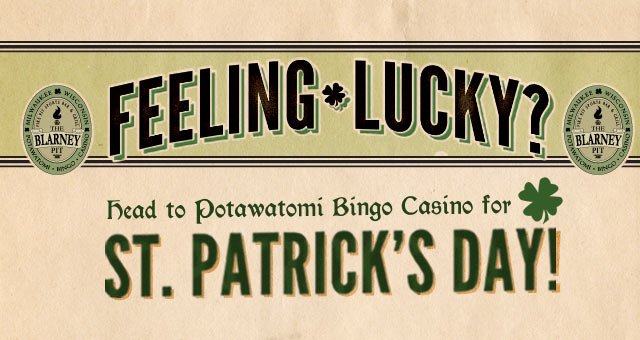 Celebrate the Luck of the Irish at Potawatomi Bingo Casino with festive food and drink specials and the chance to win a Killian's® kegerator package. Here's how we are spreading the good cheer...
---
The Blarney Pit — March 17
The Fire Pit and The Fire Pit's side bar are transforming into The Blarney Pit. All of your festive favorites will be available: corned beef and cabbage, green beer, Guinness® Irish stew and Irish apple cake.

Get into the spirit of the holiday with the sounds of Ireland at The Fire Pit's side bar.

Blarney: Noon–3 p.m.

Frogwater: 5:30–9 p.m.

Barry Dodd: 9:30 p.m.–1:30 a.m.
Drink Specials
Head to The Blarney Pit and toast this lucky holiday with great specials. Enjoy Dublin's staple, Guinness, or a $2.50 pint of green beer. Guinness is also available at Bar 360.
Other specials:
$4 Smithwick's®

$4 Black and Tans

Jameson® Irish Whiskey: $5 for a single or $6 for a double
Please drink responsibly.
The Buffet
Enjoy a delicious Irish feast at The Buffet with traditional dishes like, chef-carved steamship of corned beef, fish and chips, Guinness stout braised chicken, corned beef and cabbage, and so much more! Plus, Guinness cans will be available for $3.

The Food Court
Canal Street Deli is serving a corned beef on rye sandwich for $6.99 on March 17.

Win a Killian's® Kegerator Package
Every time you purchase a Killian's Red for just $3.50 in The Fire Pit this month, you will be entered into a drawing to win a Killian's kegerator, pub glasses and two Killian's bar stools. One guest will win on April 2. Learn more.