Step up to $5 Blackjack Tables 7 Days a Week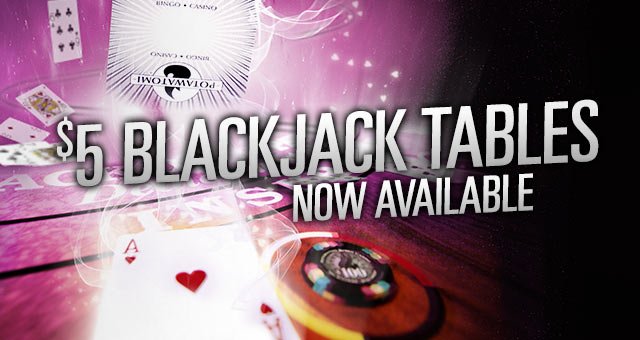 Blackjack, a.k.a. Twenty-one. Quite possibly the most familiar and widely played table game in any casino – and definitely a hit at Potawatomi Bingo Casino!
Thrilling to some, intimidating to others…that is, until you've played a few rounds.
Are you a beginner? It's easy enough to learn in just a few minutes. View our How-to-Play video and brochure. You can also pick up a Strategy Card in The Sweet Grass Gift Shop to use at the table.
---
Whether you're a fresh face at the blackjack table or a seasoned player looking to try a lower limit, we have you covered with $5 blackjack tables at the following times and locations:

Plus, use your Fire Keeper's Club® card when you buy-in and you'll be on your way to earning points and perks. The more you play, the more points you'll rack up. Use your points for bonus entries into promotions, a discount at The Northern Lights Theater and so much more.
Not a Club member? Learn how to join—it's free.
Will we be seeing you soon at the tables? Let us know in the comments.