Summer Concerts in Milwaukee 2013
Potawatomi Bingo Casino is the epicenter of Milwaukee dining and entertainment. There's so much excitement that if you don't know about a show or dinner special, you could be missing out. Thankfully there's a remedy for that. Sign up for the weekly emails from The Northern Lights Theater so you're the first to know about all the great specials, promotions and entertainers coming to the Casino.
So what kind of entertainment does Potawatomi Bingo Casino attract? Last month the Casino hosted sold out shows by Jewel and Boney James. Get in the know to find out who's coming to the Casino before anyone else, and enjoy the comforts of the best seat in the house!
---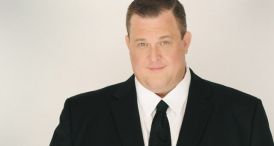 BILLY GARDELL
July 25–27
Tickets: $50/$45/$40
Two shows by late night funnyman Jay Leno sold out in record time, but there's still time to catch Billy Gardell deliver joke after joke. Billy's star is currently shining brightly alongside Emmy®-winner, Melissa McCarthy. Together, the two make up "Mike & Molly," watched by roughly 13 million viewers weekly on CBS. Despite the credits Gardell has amassed to date, he'll now be best known for a weekly sitcom that is as funny as it is sweet.
But it's not all fun and games. Some serious music pulls into The Northern Lights Theater. Check out what's coming up and too good to miss.
THE ULTIMATE DOO-WOP SHOW
July 11
Tickets: $45/$35/$25
The Ultimate Doo-Wop Show brings your favorite doo-wop songs to life at The Northern Lights Theater inside Potawatomi Bingo Casino in downtown Milwaukee. Catch the following acts under one roof:
Maurice Williams & The Zodiacs ("Stay")

Kathy Young ("A Thousand Stars," "Magic Is The Night" and "Happy Birthday Blues")

The Vogues featuring Bill Burkette & Hugh Geyer ("You're The One", "Five O'clock World", "Magic Town", "Turn Around Look At Me" and "My Special Angel")

The Spaniels featuring Willie C. Jackson ("Goodnight Sweetheart," "Baby It's You," "Bells Ring Out," "So Deep Within" and "Peace of Mind")

The Shades of Blue ("Oh How Happy")

Stormy Weather ("Street Corner Serenade")

Jive Boppers ("Buzz, Buzz, Buzz" and "Harlem Nocturne")
CHRIS ISAAK
July 23 & 24
Tickets: $75/$65/$60
As a child spinning his parents 45s in their Stockton, California home, this deeply committed artist, Chris Issak, has been obsessed with the glory days of Memphis' Sun Studio and the visionary artists who got started there, including Elvis Presley, Johnny Cash, Roy Orbison, Carl Perkins and Jerry Lee Lewis—all of them discovered and nurtured by the late, great Sun Records founder, Sam Phillips. Known for such hits as "Wicked Game," "Don't Make Me Dream About You" and "Can't Help Falling In Love," Isaak puts on a show you won't want to miss.
WANG CHUNG WITH THE FIXX
July 30
Tickets: $25/$20/$10
Are you tired of modern music? Can't find the meaning in contemporary pop? Have you been waiting all these years for the return of new wave? If you answered yes to any of these questions, get your fixx now! Catch Londoner bands, Wang Chung and The Fixx, as they bring back British new wave. Enjoy dance hall days, get saved by zero and see red skies at night with these '80s bands as they spend the summer in the states.
Sign up now to catch all the acts that will be heating up in August.