Survey Reveals America's Relationship With PTO
After everything that 2020 has thrown at Americans, it's safe to say we could all really use time to relax and destress.
Taking time off from the daily work grind gives us time for rest, relaxation and recharging, but many Americans leave PTO on the table every year. We were curious to find out America's relationship with PTO, so we surveyed 2,000 full-time workers across the country to get a better understanding of their PTO habits and how they have spent their PTO in 2020.
PTO Habits
Taking time off from work has looked different for many Americans this year due to the COVID-19 pandemic. Many have taken time off to take care of family at home such as helping their children while they take virtual classes. According to respondents, all that time off from work has been adding up this year. In fact, nearly 40% of respondents say they took more time off from work in 2020 compared to 2019 while 38% say they took less time off work this year. Overall, Baby Boomers were most likely to take more PTO than other generations and Gen Z respondents have taken the least time off work this year.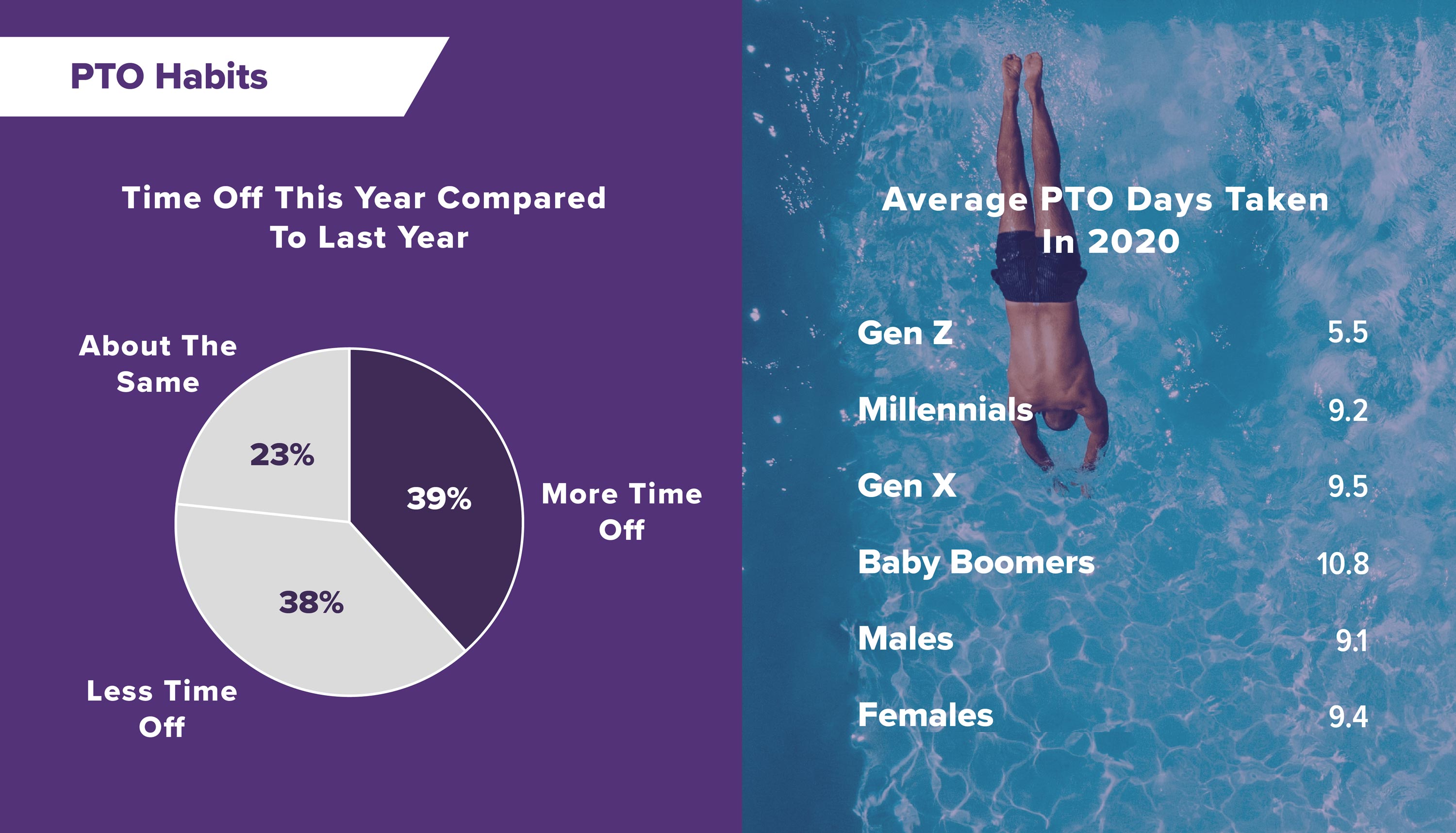 One of the biggest reasons respondents say they avoid taking time off work is due to the size of their workload. According to respondents, 41% feel their workload prevents them from taking PTO followed by a lack of someone to cover for them if they did take time off. These reasons might explain why a staggering 47% of respondents say they've gone a full calendar year without taking any PTO.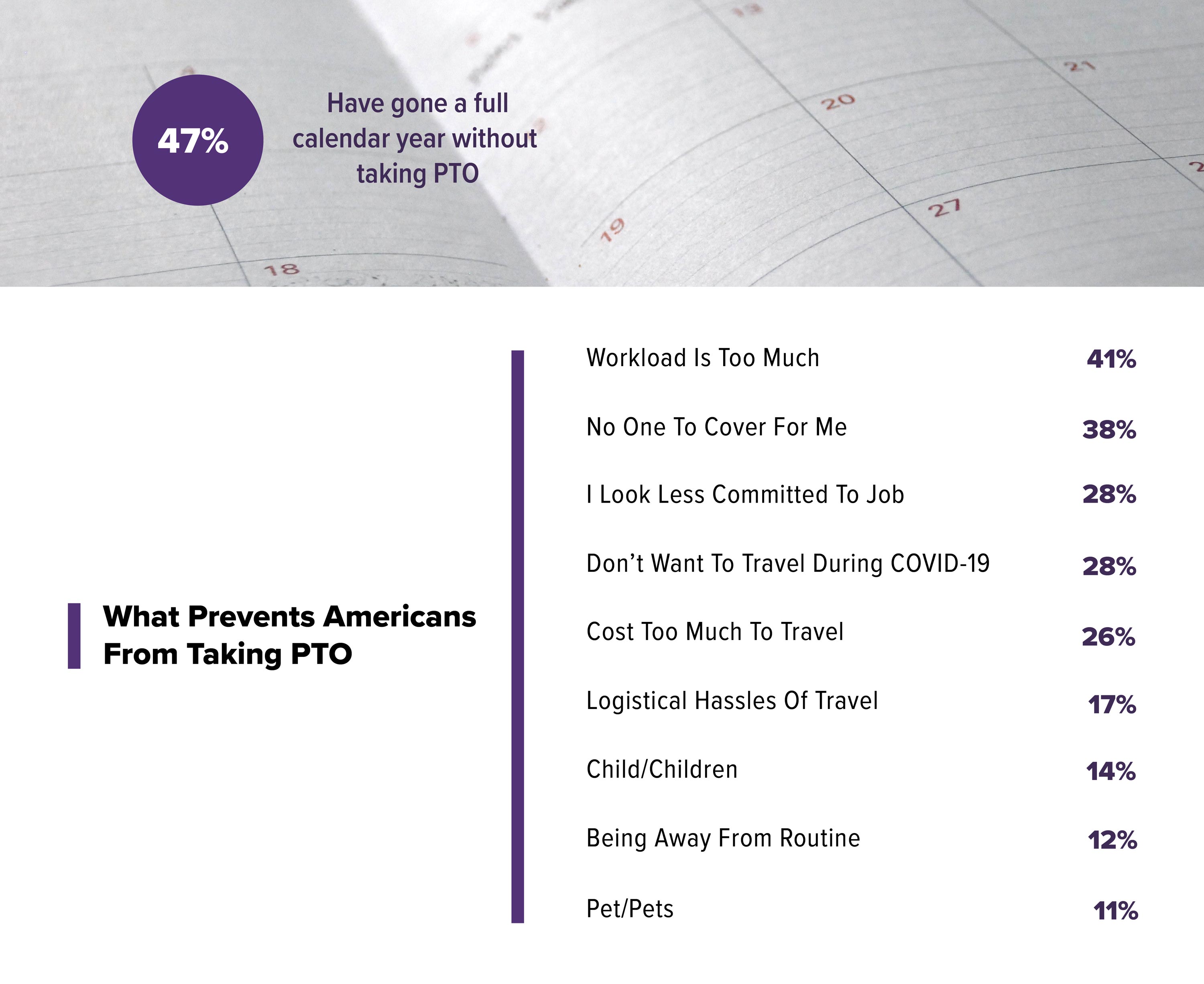 PTO Guilt
Do you feel guilty whenever you put in that PTO request? Don't worry, you are not alone. According to respondents, 29% feel a sense of guilt when they take time off work and 20% say they sometimes feel guilty while on PTO. One of the top reasons respondents say they feel this way is due to fear of falling behind on their work as well as judgement from their boss or manager.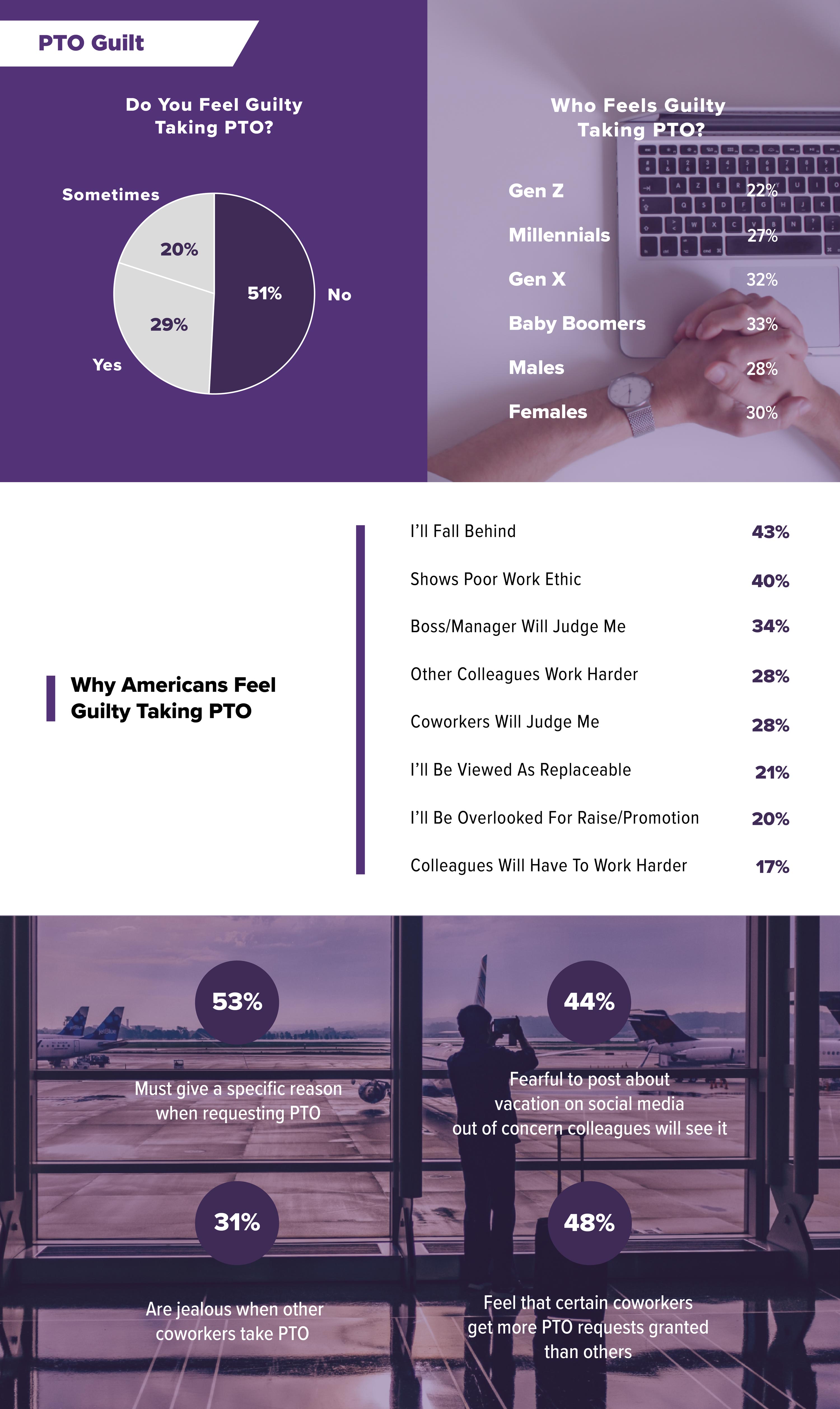 Even after a PTO request is granted, many still feel a sense of guilt. In fact, 44% are afraid of posting about their vacation on social media out of fear their colleagues will see it. However, the remaining 54% see no issue when it comes to the vacation or "staycation" humblebrag post.
PTO and COVID-19
Many employers realize the stress that COVID-19 has brought on for their employees, which might be why 40% of respondents say their employer has added more PTO days since the pandemic. Along with adding more days to relax and destress, employers have also been more flexible when it comes to granting PTO requests, especially among those with children or families.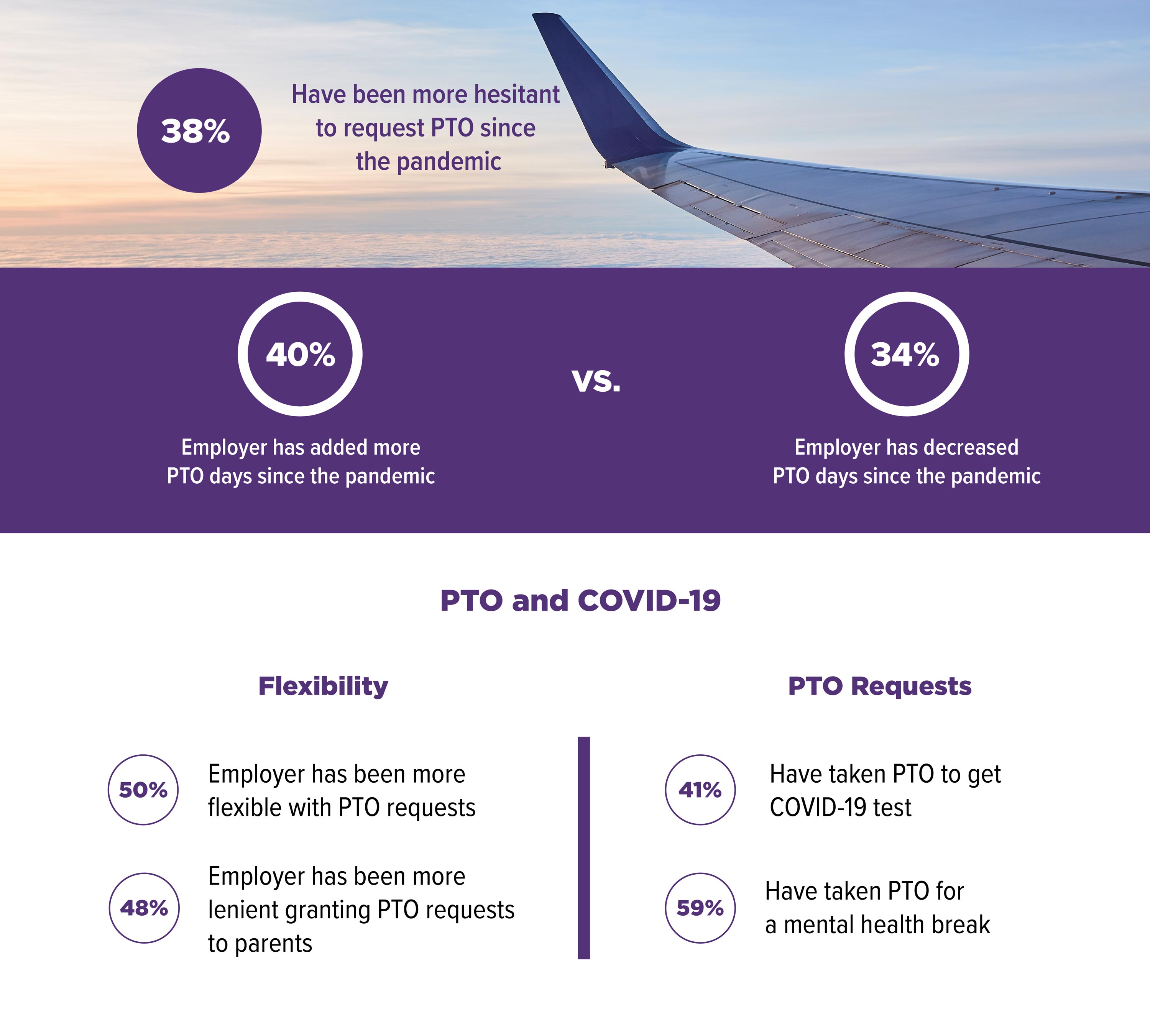 2020 Holiday Travel
Even though traditional holiday plans will be adjusted for many this year, workers say they are still planning to take time off to enjoy the season. According to respondents, 40% plan to take more time off during the 2020 holiday season compared to last year. Another 40% say they plan to travel this holiday season with Thanksgiving and Christmas being the two most popular times to travel.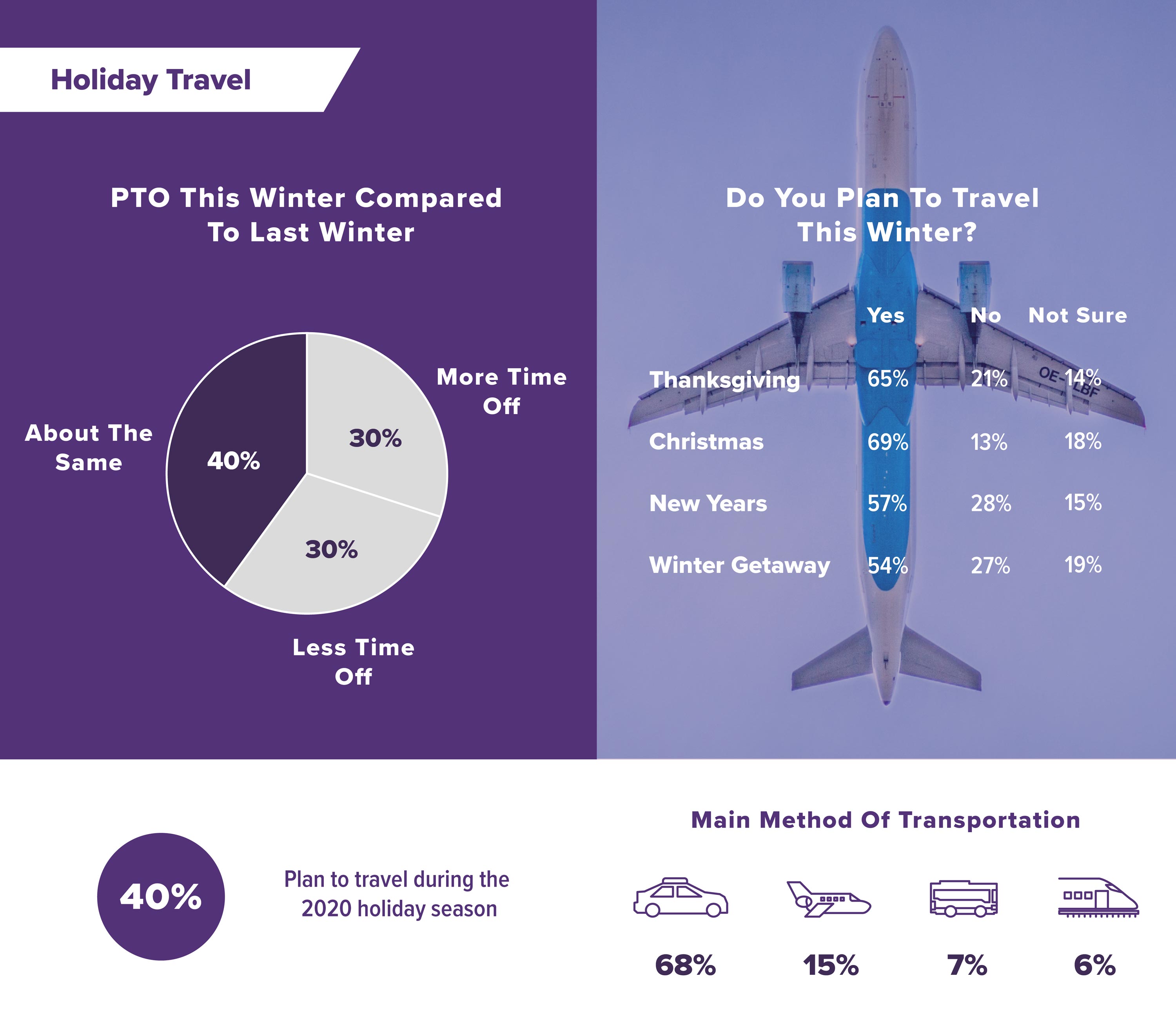 Working Off The Clock
It's important to take time to unplug while on vacation, but 42% feel they can't completely unplug from work while on PTO. More than half say they are fearful of falling behind on work while on PTO and having more work piled up when they return.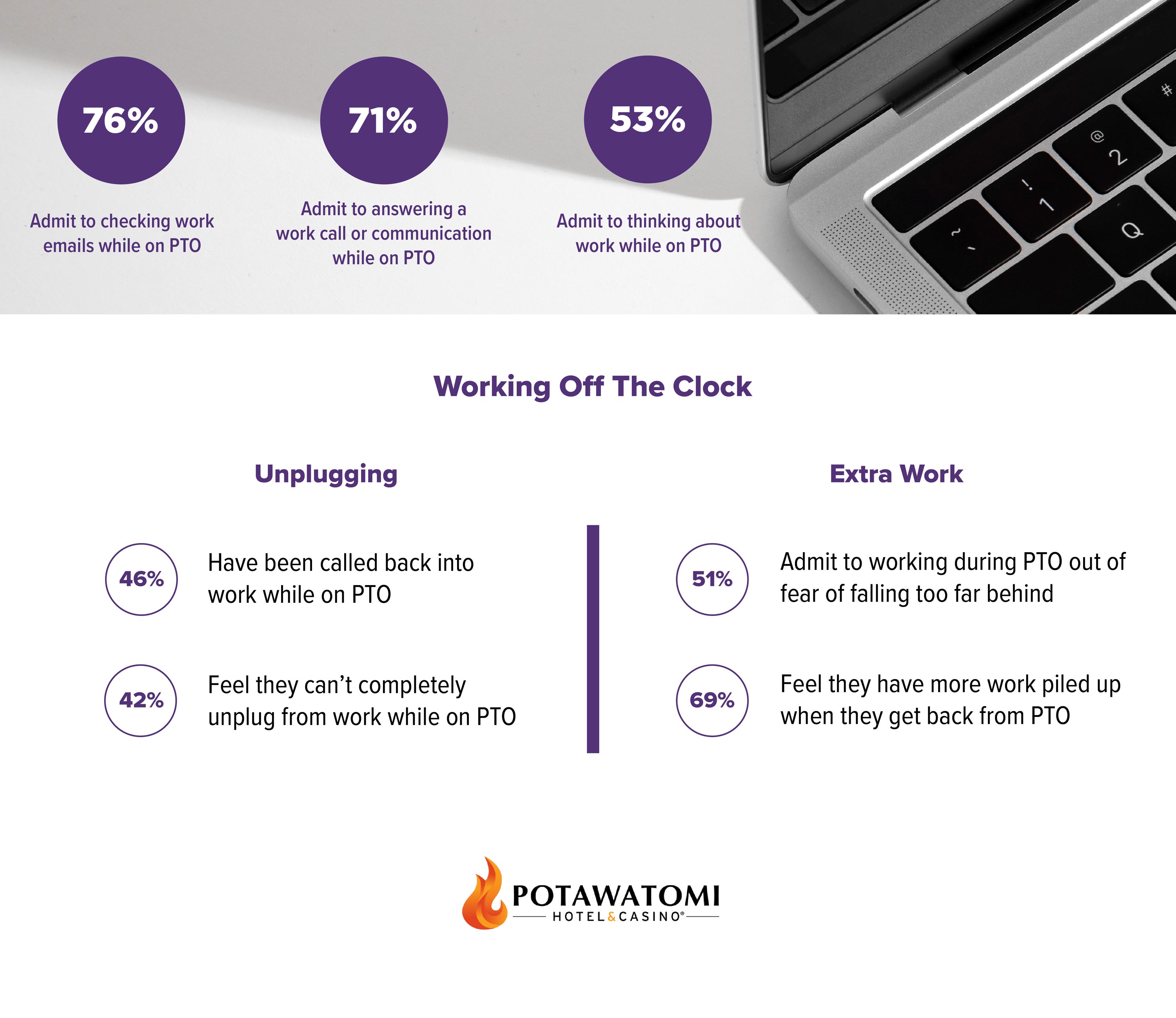 As we continue to navigate through the pandemic, taking time off to safely unplug from work can have a positive impact on your wellbeing. Whether it's a staycation or planning for a future visit to Potawatomi Hotel & Casino, taking PTO can help maintain a balance between your personal life and work life.
Methodology
From Oct. 26 to Oct. 30, 2020, we surveyed 2,001 Americans on the topic of PTO and time off work. 51% were male and 49% were female with a median age of 37. Income: Under $20K: 5%; $20-40K: 23%; $40-60K: 32%; $60-80K: 21%; $80-100K: 10%; Over $100K: 9%.
For media inquiries, contact media@digitalthirdcoast.net