6 Must-haves for the Perfect Bachelor or Bachelorette Party
Whether you're planning a bachelor or bachelorette party, Potawatomi Hotel & Casino is the perfect place to celebrate from beginning to end. It's his or her "last hurrah!" Time to cut loose for a night of fun.
Do you want to avoid arranging an expensive limo bus, caravanning around town, or adhering to a strict timeline for the night? Consider a place that does it all; A one-stop shop with dinner, drinks, entertainment, games, and a place to sleep. Nothing says fun and energy like Potawatomi Hotel & Casino, and it's all under one roof.
1. Dinner at one of our many delicious restaurants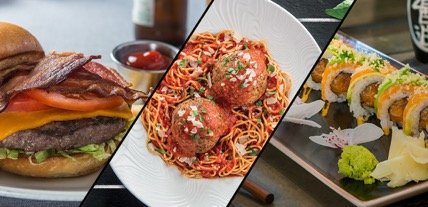 Does the bachelor have a sports obsession? Check out The Fire Pit Sports Bar & Grill. You'll be able to watch sporting events from around the word via satellite on 34 high-definition TV screens visible from all areas of the room. And it'd be tough to find a place that serves bigger or tastier burgers while you're taking in football, baseball, basketball, hockey, or soccer!
Does the bachelorette enjoy seafood, steak, or wine? Dream Dance Steak offers you the best of it all. Choose from more than 600 retail-priced wines to pair with your meal. Ask your server for his or her best recommendation to go with your delicious, high-quality meal.
Is your party looking for a little privacy while you eat? Ask for a reservation in our private dining rooms at Bella Italiana or Canal Street Café.
In search for the best sushi in town? Look no further than RuYi, our authentic Asian restaurant & grade-A sushi bar.
2. After-dinner entertainment
After that big meal, you should be ready to get the party moving. Perfect time to stroll over to the intimate The Northern Lights Theater. Be sure to scope out the headliners before the big night, they just might have the perfect act that everyone will enjoy!
If the group needs a good laugh, you'll have plenty of time to grab seats and order cocktails for the 7:00 p.m., 9 p.m., or 11 p.m. Bonkerz comedy show. If you're craving live music and dancing, check out one of our free shows Thursday – Saturday at Bar 360 or The Fire Pit's side bar.
3. Party games—on the casino floor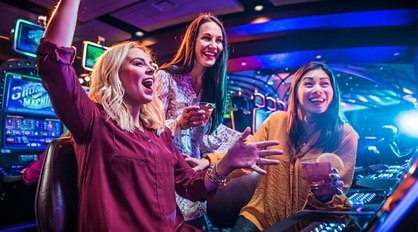 Bingo! Poker! Slot machines! Table games! With so many options, you can't possibly go wrong!
Stick together as a group and conquer a table game like blackjack, craps, roulette, baccarat or one of our many other options. Or split up to check out one of over 2,500 slot machines. Our variety is superb! We offer low and high denomination machines, ranging from 1¢ to $100. You're sure to find a game that grabs your attention with graphics, sound effects, and interactive themes of every genre.
4. Drinks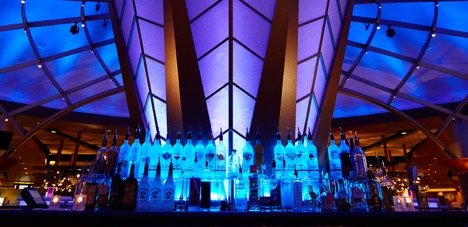 A few celebratory drinks will only add to the fun and excitement! And guess what? We have some great options! If you're playing and winning, we understand that you don't want to leave your streak, so our cocktail servers will find you and get you what you need. Of course, if you need a gaming break, head over to Bar 360 or Fire Pit's side bar, where the bartenders will make you an amazing cocktail that you can sip while taking in all of the excitement around you.
5. Late night munchies at The Menomonee Valley Food Court
After a long night of fun, you and your party may be in need of a snack before bed, so make one last stop the third-floor Food Court. Mozzarella sticks and pizza at Trapper's Grille hit the spot, as everyone starts to wind down.
6. Time for sleep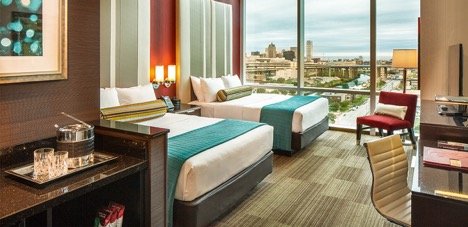 By now you're probably exhausted, but you won't have to go far to find a little peace and quiet in a big comfortable bed. Sleep in style in one of our luxury hotel rooms, offering a flat-screen TV, safe, refrigerator, coffeemaker, and smart thermostat.
We have the variety you need to give the bachelor or bachelorette the best "last hurrah!" Dinner, entertainment, games, drinks, snacks, and sleep. You can get it all at Potawatomi Hotel & Casino. Start planning your night out with a visit to paysbig.com.
Don't want the fun to end? Consider booking your wedding where the action never stops! Visit paysbig.com/weddings or call 414-847-8600 to book!