A Brief History Behind Mardi Gras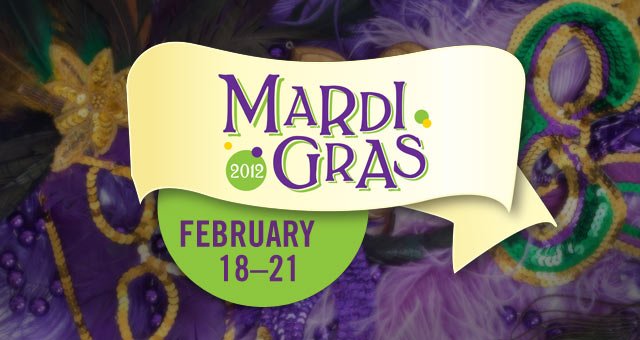 Mardi Gras, otherwise known as Fat Tuesday, is with filled music, parades, picnics, floats and excitement—making it a big holiday in New Orleans! It is the culmination of the festival season before Lent begins.
There are picnics and parades with music and floats. Crowds of spectators gather—dressed in purple, green and gold, with long beads dangling from their necks. During the celebration, all of the businesses and roads practically shut down in New Orleans as the people and parades take over the city.
But, how did this all begin?
---
A Collection of Events
According to mardigrasneworleans.com, today's Mardi Gras celebration can be traced back to the early 1700s. Clubs and societies held a collection of different parades and balls in New Orleans. These social groups eventually became today's krewes, the different groups that put together complete parades, floats and balls.
More Than Just Beads
The tradition of Mardi Gras parade throws, which today are commonly beads, started in the 1870s by the krewe Twelfth Night Revelers. They began throwing trinkets from their parade floats to the crowds along the route. In 1884, the King of the Carnival, Rex, started to use medallions rather than trinkets.
Since then, each krewe creates a unique throw each year. However, throws are not limited to just beads or medallions. They can be cups, doubloons (coins) or even stuffed animals—regardless of what the item is, the giveaways are quite popular. People race to collect their favorite krewe's throws—pushing their way through the crowds.
The More Elegant Side
While the parade is open to the public, each krewe hosts a private affair—the ball. These formal occasions take place across the city of New Orleans, and invitations are highly prized. The first invitations were die-cut and printed in Paris—and they continue to be colorful and valuable works of art.
The event itself is an introduction of young women into formal society. Women dress in ball gowns and hope to be issued a "call-out" card. If fortunate enough to receive one, she is seated in a selected area and waits her turn to be "called out" for a dance by the krewe member that sent the card. She is rewarded with a night of dining and dancing with a prince in formal attire.
Experience the Big Easy in Brew City
In the spirit of Mardi Gras, Potawatomi Bingo Casino is bringing some of the fun, food and flavor of New Orleans to Milwaukee. From February 18–21, there'll be entertainment—tarot card readers, caricature artists, traveling musicians and more. There'll be authentic dining options and drink specials, including hurricanes. And, of course, there will be parades every hour from noon until 12:15 a.m., featuring strolling bands, a Grand Marshal, stilt walker, juggler and showgirls.