OUR HISTORY
Building On Tradition
The Potawatomi tribe first occupied the Menomonee Valley hundreds of years ago. At that time, the Valley flourished with natural resources and provided a bounty for many Native American tribes. Many years later the Valley served as an industrial center, and later became blighted and deteriorated into toxic brown fields. This remained a desolate area until the Forest County Potawatomi regained some of this territory and became the first to invest in refurbishing the land, bringing new development to the Menomonee Valley. The development was Potawatomi Hotel & Casino (then Potawatomi Bingo), the first off-reservation casino in the country and still the only one of its kind in the state of Wisconsin.
On March 7, 1991, the then-Potawatomi Bingo opened its doors for the first time. A capacity crowd arrived to welcome this new entertainment venue to the community. That level of enthusiasm has continued for decades and the Casino now welcomes more than 6 million guests annually. Since 1991, the facility has undergone three major expansions and diversified its entertainment options to become one of the leading entertainment destinations in the country.
Continual growth of the property has meant an increase in employment, increased contributions to the community, increased shared revenue payments to local governments and improved outlook for the Forest County Potawatomi Tribe.
March 7, 1991 – Potawatomi Bingo opens as a 45,800-square foot building offering a 2,500-seat bingo hall, a parking lot that would hold 500 cars and approximately 300 team members. 
1992 – The first slot machines are added, following the signing of first state gaming compact.
February 1997 ­– For the first time, the property is open 24 hours a day, seven days a week.
October 2000 – A three story, $120 million, 250,000-square foot expansion is completed. The expansion provided space for 600 additional slot machines, table games, a new 1,400-seat bingo hall, restaurants and a 500-seat theater.
July 2002 – A 30,000-square foot administration building opens on 13thStreet and St. Paul Avenue.
April 2004 – The Poker Room opened with ten tables.
December 2004 – The street around the casino is renamed from Pittsburgh Avenue to Potawatomi Circle.
November 2005 – Slot machines converted to coin-free.
August 28, 2006 – Ground broken on $240 million, 500,000-square foot expansion of entertainment space.
June 21, 2007 – Opening of vehicular/connector bridge off 16th Street into the parking structure. 
November 21, 2007 – Opening of new parking structure providing 1,700 additional parking spaces. 
June 2008 – $240-million dollar expansion completed. Project added 500,000 square feet of entertainment space, restaurant space, center bar, food court, banquet and meeting space, poker and off-track betting rooms.
July 12, 2012 – Ground broken on 381-room, $150 million hotel.
September 2012 – Completion of renovated 30,000-square foot event center.
July 1, 2014 – Name is officially changed to Potawatomi Hotel & Casino.
August 18, 2014 – Hotel welcomes its first guests.
December 2014 – Additional 1,400-stall parking structure completed.  
Team Member Growth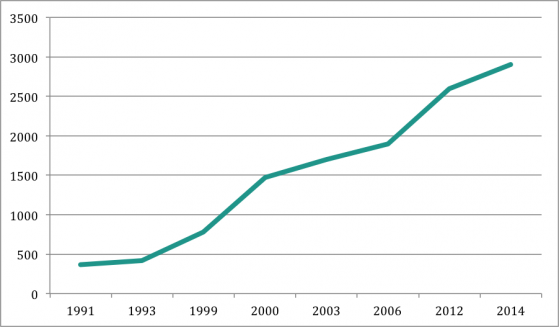 Visitor Growth (in millions)